Irish pubs in Konstanz: pub quizzes, happy hours and Irish food
Every good university town has an Irish pub, and the Konstanz city centre has four of them! If you're a fan of Irish pub culture, then this is where you can get your fill of tasty burgers and beer, watch football, play bingo or compete in a pub quiz. Chiara, who is studying at the University of Konstanz, will be your guide.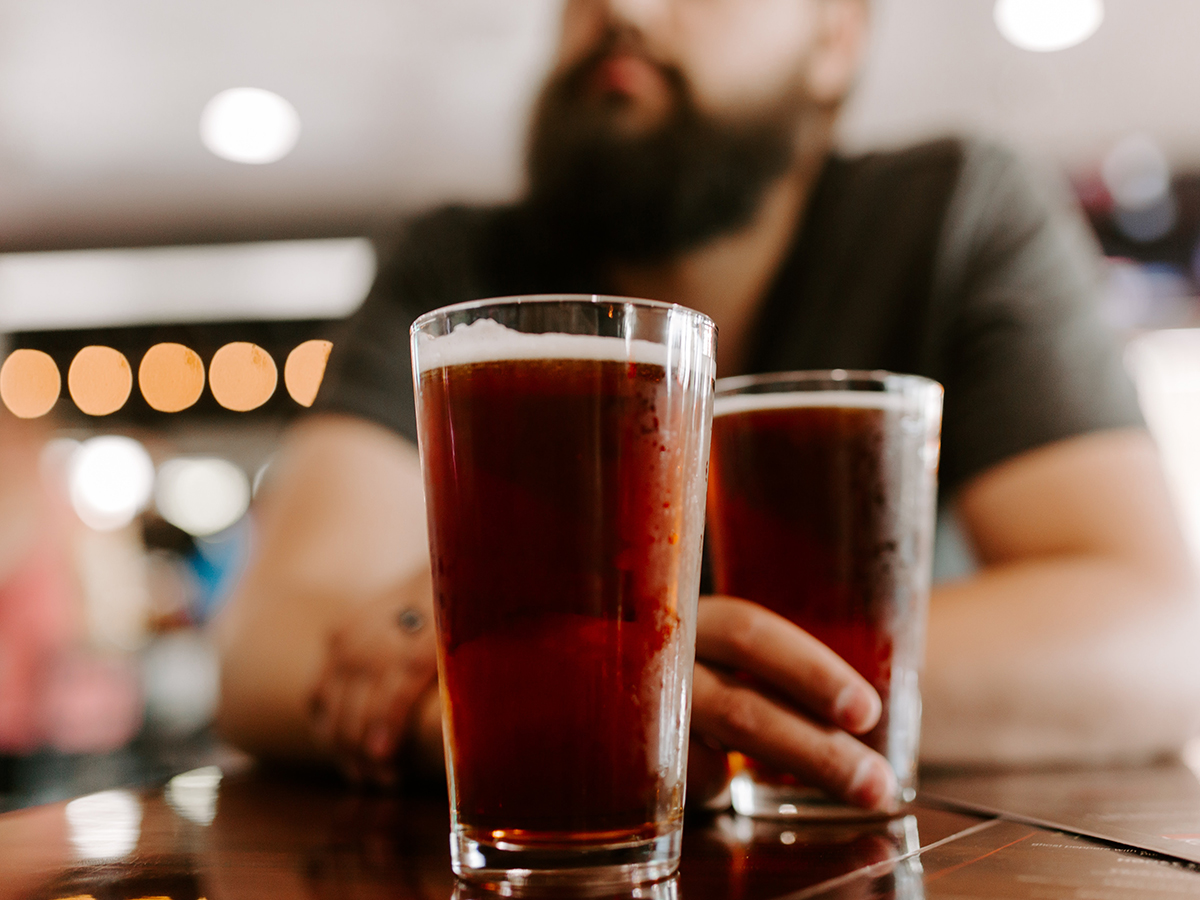 The coolest Guinness and the tastiest pub food: You're sure to find your favourite in Konstanz and Kreuzlingen. (Photo: Unsplash / Juliana Arjes)
#1: Logan's Irish Pub: football, concerts, pub quizzes and karaoke
Konstanz has two Logan's locations – one on the river Rhine (Seerhein) and one in the old town. Both pubs have an authentic, cosy atmosphere and offer a lot of different activities. The Irish pubs are just the right place to have a fun night out with your friends – whether you like to watch football, listen to a concert or take part in one of the pubs' famous bingo, quiz or karaoke nights. In addition to all these cool events, the pubs have tasty food and a wide selection of drinks.
Logan's City: Zogelmannstrasse 2, Konstanz, Germany
Opening hours: Mon – Thu: 17:00 – 1:00 Fri: 17:00 – 2:00 Sat: 17:00 – 3:00 Sun: 17:00 – 1:00
Logan's Seerhein: Reichenaustrasse 2, Konstanz, Germany
Opening hours: Mon – Thu: 17:00 – 2:00 Fri: 17:00 – 3:00 Sat: 17:00 – 3:00 Sun: 17:00 – 2:00
Prices: Classic burger and chips: € 9.90 | Guinness: small € 3.10€ / large € 4.80www.logans-pub.de

#2: Shamrock: an Irish Pub with an original Irish menu
The Shamrock Irish Pub is centrally located just across from Konstanz's main train station. In addition to live music and sport events on TV, the pub also hosts bingo and karaoke nights. Each month, the Shamrock website updates its calendar of events and special offers. Some of the most popular ones include food and drink specials like the "Chicken wings all-you-can-eat night" or the "Steak night". If you want to try out typical Irish meals, the Shamrock is the place to do it. In addition to hamburgers, fries and such, the menu also includes Irish stew, shepherd's pie or beef & Guinness.
#3: Stable Irish Pub: gluten-free burgers, pizza and pasta
You might want to visit the Stable after a day out shopping in the Lago shopping centre. The Irish pub is right next to the large shopping centre on Bahnhofsplatz, and it has a wide range of food and drinks in addition to an excellent outdoor seating area where you can bask in the sun. One unique feature: The Stable has a wide selection of gluten-free foods including burgers, pizza and pasta.
Stable Irish Pub, Wiesenstrasse 4, Konstanz, Germany
Opening hours: Mon – Thu 11:00 – 1:00 Fri – Sat: 11:00 – 3:00 Sun: 11:00 – 1:00
Prices: Classic burger: € 9.40 (+1 euro for gluten-free option) | Guinness: small € 3.30€ / large € 5.00
www.stable-konstanz.de | www.facebook.com/StableKonstanz