Bus, train or boat? 9 tips for travelling around Konstanz (and Kreuzlingen)
You can get almost anywhere in Konstanz by bike – which is why it is the top mode of transportation for many students in this scenic city on Lake Constance. But there are also other ways of getting around – and Simone is happy to be your guide.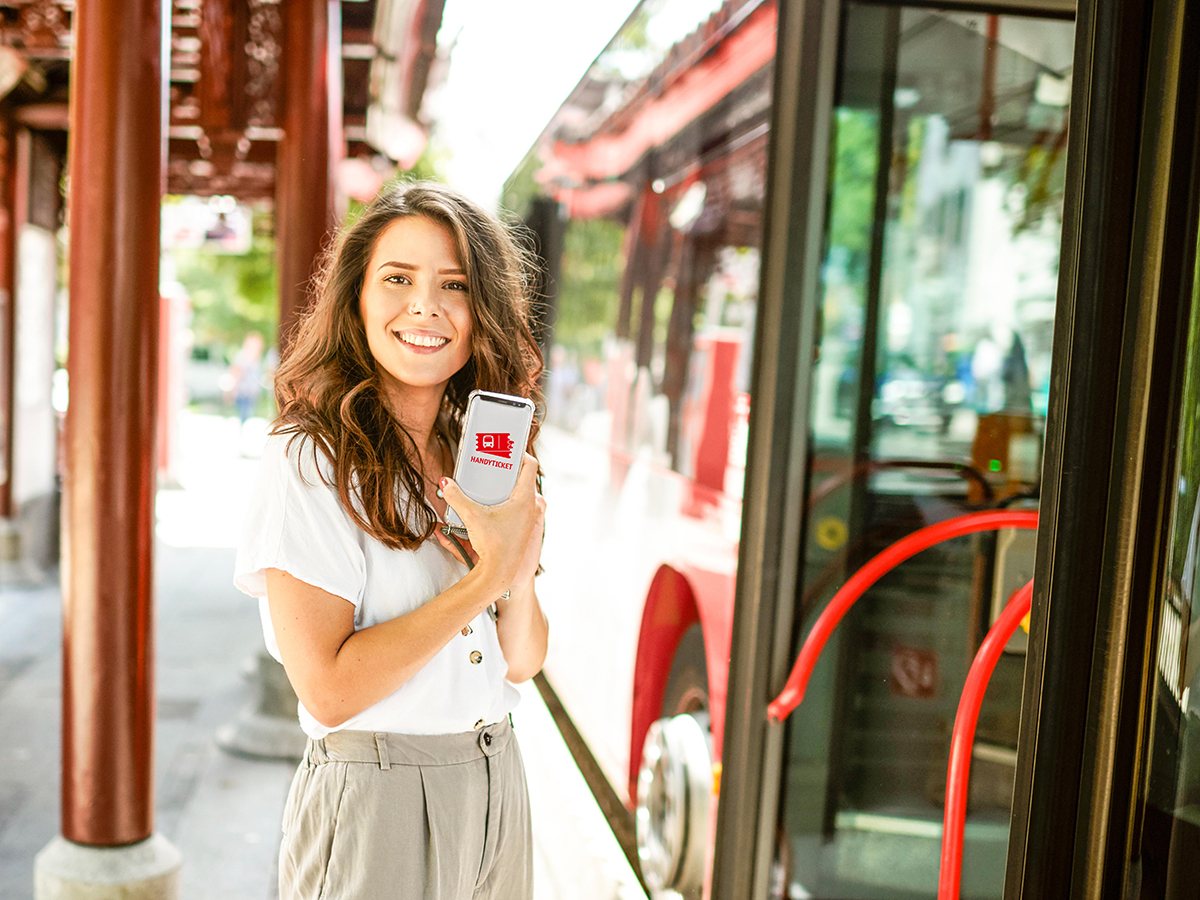 Online tickets are easy to use when you ride the bus in Konstanz. (Image: Stadtwerke Konstanz)
Tip # 1: Cheap public transportation
With a Studi-Ticket, public transportation in Konstanz is really cheap (for students). You can purchase the physical ticket by going to the university's seezeit Shop or the HTWG's canteen. Don't forget to bring along your student ID! You can also use the "Mein Konstanz" app (in German) to purchase the smartphone version. More information is available on the Stadtwerke Konstanz website.
You can also buy tickets at these locations:
Kiosk on Bodanplatz (city centre)
Bistro by the ferry at "Staad/Autofähre" bus stop
Kiosk by "Rio" on Fürstenbergstr.
Kiosk by the tunnel to "Marktstätte"
Kiosk in Konstanz-Paradies: Gottlieber-Str. 25
Stadtwerke Konstanz "Energiewürfel"
The Studi-Ticket currently costs € 56.00 per semester. You can use the ticket to travel on the Konstanz city buses (but not "Nachtschwärmer" night buses), the white "Seehas" trains (between Konstanz's main train station and the Wollmatingen station) as well as the ferry to Meersburg (pedestrian/bike). You can also use the ticket on buses in the "Ostwind Lokalzone" of Kreuzlingen.  The German Studi-Ticket is only available for students at the university and HTWG in Konstanz, not for PHTG students.
Which bus do I have to take? And how can I get where I need to go the fastest? Check the online bus schedule on the Stadtwerke website or use the "Mein Konstanz" app. Just type in the stops where you will be getting on and off the bus, and the website/app will show you which bus(es) you can take.
If you live outside Konstanz, you can buy the VHB-Studi-Ticket for € 56.70 per semester. This version allows you to use trains and buses in the entire VHB network (2nd class). This means you can connect to destinations, for example, in Allensbach, Radolfzell or Singen. More information is available on the VHB website (in German). The important thing is that, along with your Studi-Ticket, you always keep your student ID card and a valid certificate of enrolment on hand.

Tip # 2: Eco-friendly and fast: Biking around Konstanz
Be both eco-friendly and fast as you travel around Konstanz by bike. Don't own a bike? Then why not get one? There are lots of bike shops in Konstanz, including, e.g.:
Is your bike in need of repair?  Why not drop by the university's AStA Fahrradselbsthilfewerkstatt (bike workshop) and get instructions and parts for making the repair yourself? On the HTWG campus there is also a bike repair station with a few tools for you to use. The online map of Konstanz shows where you can rent bikes and where there are bike repair stations.
Rent a bike: for a euro a day
If you only need a bike for a short period of time, you can rent it from Kultur-Rädle, Rocco – or for a euro a day from Uni-Radverleih. At the university, however, you will need to pick up/drop off the bike between 12:00 and 13:00. The rental period is limited to 60 days per semester (120 days for Erasmus+ exchange students).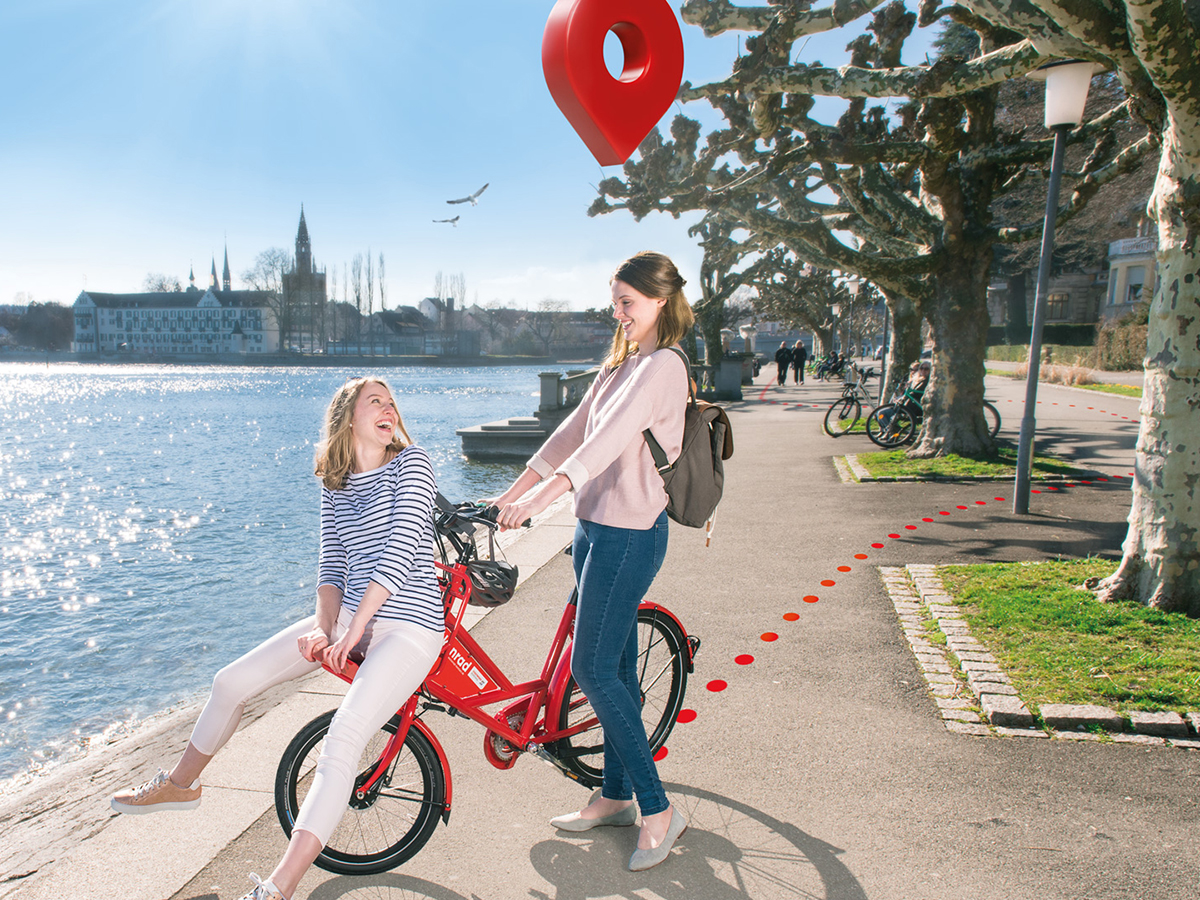 KONRAD and TINK are two systems for renting a (transport) bike in Konstanz. (Image: Stadtwerke Konstanz)
Borrow a bike: Book it, hop on and park it at your destination.
A handy way to get a bike fast is to use the TINK and KONRAD bike rental systems: KONRAD is offered by Stadtwerke Konstanz and has 150 bikes available. Simply pick up a bike at one of 15 bike stations and return it to any nearby station when you're done. This service costs you a euro for 30 minutes, up to a maximum of 9 euros per day.
TINK has 25 transport bikes available in Konstanz. Each new half hour of use costs 1.50 euros. If you rent a bike for 24 hours, the maximum cost is 15 euros. You can use these bikes to transport loads of 80-100 kg and return your bike to the nearest TINK rental station afterwards. A list of the 15 KONRAD stations and 3 TINK stations is available online.
Use the "Mein Konstanz" app to check whether there are enough bikes available at your preferred station and to reserve your bike for pickup within the next 15 minutes. Or you can book right at the station via text message. You will need to register online or via the app (for free) before your first rental with KONRAD / TINK. Important: Make sure to comply with the traffic laws at all times – the police are known to keep a close eye on cyclists and their bikes. Hands off your mobile and keep your eyes on the road!
Tip # 3: For party animals: Take the "Nachtschwärmer" night bus home afterwards
Was it a long night, and you're out of cash for a taxi? Leave your bike parked and take the "Nachtschwärmer" bus home instead. These night buses are available from Wednesday through Saturday nights. With your Studi-Ticket, it costs you 3 euros to ride.
Tip # 4: Lakeside luxury: Ride the ferry with your Studi-Ticket
The fastest, cheapest way (for pedestrians) to cross the lake, as well as the most scenic, is to take the ferry between Konstanz and Meersburg. If you are travelling on foot or by bike, all you need is your Studi-Ticket to ride the ferry. There is also a bus stop right at the harbour in Konstanz-Staad. During the ferry trip of about 15 minutes, you can enjoy a fantastic view of the surroundings (especially in the summer).
Tip: If you are travelling by car, why not check the webcam to see how much traffic is currently at the ferry – Friday afternoons are usually so popular that you may have to wait 2-3 ferries until you can make the trip. Another way to cross the lake is to take, for example, the catamaran to Friedrichshafen. Why not make an excursion by boat with the Bodensee-Schiffsbetriebe?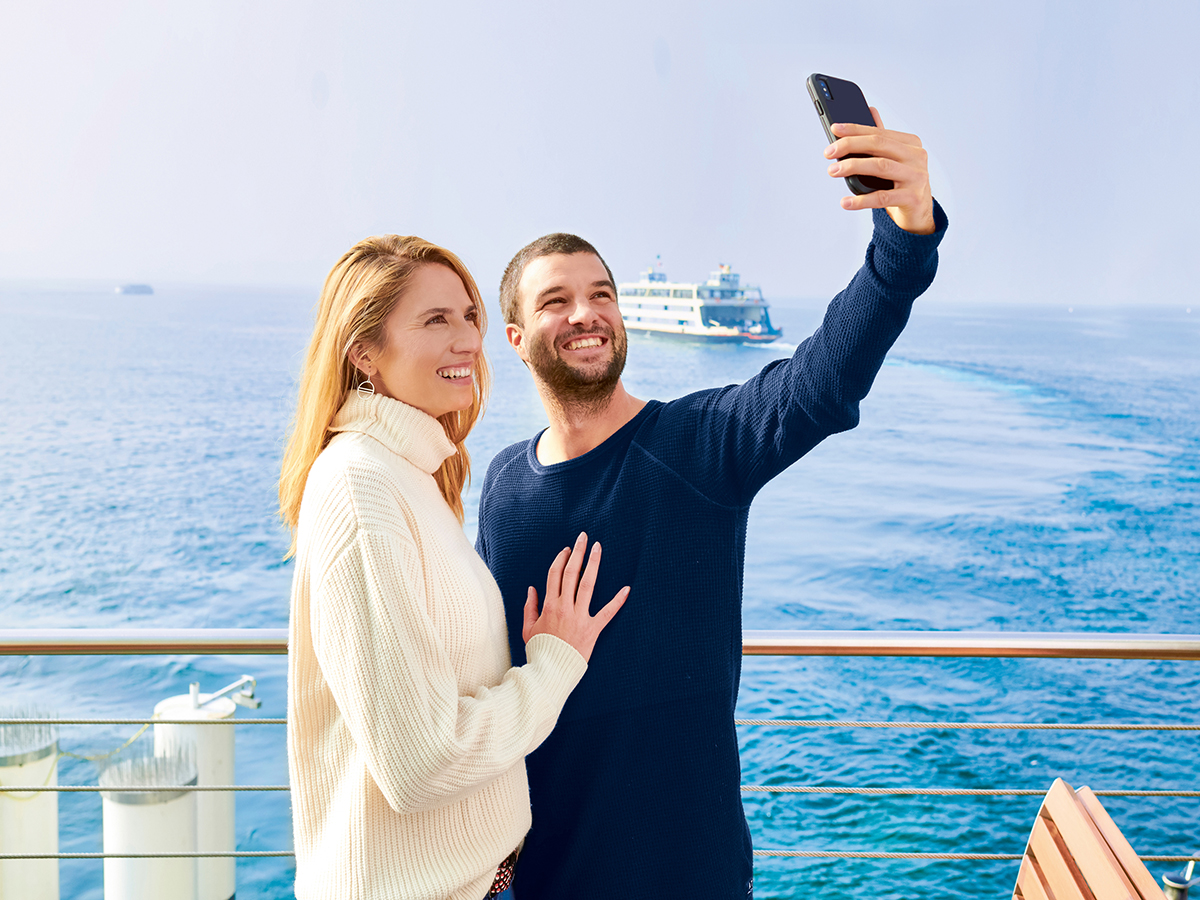 Cross the lake with the Stadtwerke Konstanz ferries. (Image: Stadtwerke Konstanz)
Tip # 5: Always an option – taking a taxi
Ready to head home after partying in a club, but it's raining like crazy and the night bus has just left? This is just the time to take a taxi. If you're travelling in a group and would like to share a bigger taxi for a cheaper ride home, then Taxi Dornheim is a option. Keep this option in mind if you ever need to transport bulky items, like a refrigerator or a large plant, that won't fit on a transport bike. (Phone: +49 7531 67-777 or book online)
Worried that the taxi will be too expensive? If you want to be on the safe side, try SeeMobil Konstanz: The website lists the exact amount: Riding two kilometres will cost you 6 euros. (phone +49 7531 813-0308 or email info@seemobil-konstanz.de)
Other taxi companies in Konstanz:
Tip # 6: Share costs by sharing a ride
Not interested in making the long trip back home alone? Do you want to travel from A to B quickly and comfortably, but don't have your own car? A good alternative to travel by bus and train is to catch a ride with someone travelling the same stretch using the free site bessermitfahren.de. Simply enter your destination and planned travel dates into the search engine for suggestions.
You can also use the platform Blablacar to catch a ride. After registering on the website, you can look for possible ride shares. You can, for example, see who you would be riding with and how the drivers have been rated.
Tip # 7: Low-cost travel by long-distance bus, Flixbus or train
Ready to head out and see the world? If you will be heading further afield, consider taking a long-distance bus or train. The cheaper option is definitely the long-distance bus. For example, Flixbus buses from the Konstanz stations in Allmansdorf, on Döbeleplatz or at Mainau Island take you to Zurich (1 hour), Munich (3.5 hours) or Stuttgart (2.5 hours), with tickets starting at € 8.
You can take the Swiss Federal Railways SBB from the Konstanz station to Zurich for about CHF 20. You can also get to Stuttgart in about three hours with the German rail DB. Share a group ticket and travel even cheaper: If you are travelling within Baden-Württemberg, why not check for Facebook groups for certain train stretches, like "Konstanz-Karlsruhe"? This could help you find other students who would like to travel at the same time as you, and you can share the group ticket "Baden-Württemberg Ticket (Young)" to travel even cheaper.
Tip # 8: Car sharing – ideal for occasional trips
Want to do your part for the environment but still need a car from time to time for occasional shopping trips or excursions? No problem! There are three car sharing services in Konstanz. How it works: Just register with any car sharing company you choose, show that you have a driving licence and then you can borrow a car. To be honest, it is not exactly cheap, because you usually have to provide a deposit when you register for a car sharing service.
What's the coolest part? All three services offer eco-friendly electric cars for you to run your errands. You can check current prices, car locations and even book online or by app with the Car-ship and Stadtmobil Südbaden services. The Ökostadt e.V. Konstanz service is available by phone: +49 7531 693-218.
For example, using Car-ship, you can borrow a car for half an hour starting at € 1. During a 24-hour period, you only pay for 15 hours: This means you pay a maximum rental fee of 30 euros per day for the smallest car. You also pay a fee per kilometre: 0.15 euros You need to pay a deposit before you can borrow a car. Car-ship stations are located, for example, in Konstanz-Petershausen, Königsbau, Litzelstetten and Wollmatingen. One small disadvantage: You always have to return the car to the same station as you picked it up. This works the same way for all the other car sharing services in Konstanz.
Tip # 9: Parking in Konstanz – That's a real challenge!
Want to take your car to meet a friend for lunch in the city centre on a Saturday afternoon? Nice try… Since you won't be able to park the car, you'll miss your lunch date. There's not a parking space in site, since the last of the 720 parking spaces in the Lago Center usually fill up by 10 or 11 on Saturdays. And, in order to park in the old town, you need a special ID ("Anwohnerausweis") for almost all of the parking spaces. Even on a weekday, it's not very easy to find a parking spot in Konstanz. Here are a few tips for parking your wheels.
Car parks: Finding the needle in the haystack
As you enter Konstanz and drive around town, you will see digital signs showing the number of available spaces in different car parks. You can also check the city of Konstanz's online Parkleitsystem to find available parking.
"Park and Ride" car parks: Take the "Wasserbus" to the city centre
If your family or friends drop by for a visit, it often makes sense for them to park outside the city centre in one of the "Park & Ride" car parks. It's easy to take the bus or train to the city centre from there. These car parks are mainly on the western side of Konstanz, like the P+R Am Seerhein at the Bodenseeforum. A family of five pays between 5 and 6 euros a day to park here and use the entire network of city buses in Konstanz. You can also take the Wasserbus from the Bodenseeforum to the city harbour.