Get your day off to a good start: The four best spots for brunch in Konstanz
Start your day off right with a long, relaxing breakfast, a hot coffee and good conversation with friends – not just on Sundays. Konstanz has quite a few hidden treasures in the way of brunch, from small neighbourhood cafés to the sunny patios of well-loved restaurants. At almost any time of day you can feast on pancakes, muesli and rolls – Isn't breakfast the most important meal of the day, anyway? Caroline, a university student in Konstanz, is happy to share her favourite locations with you.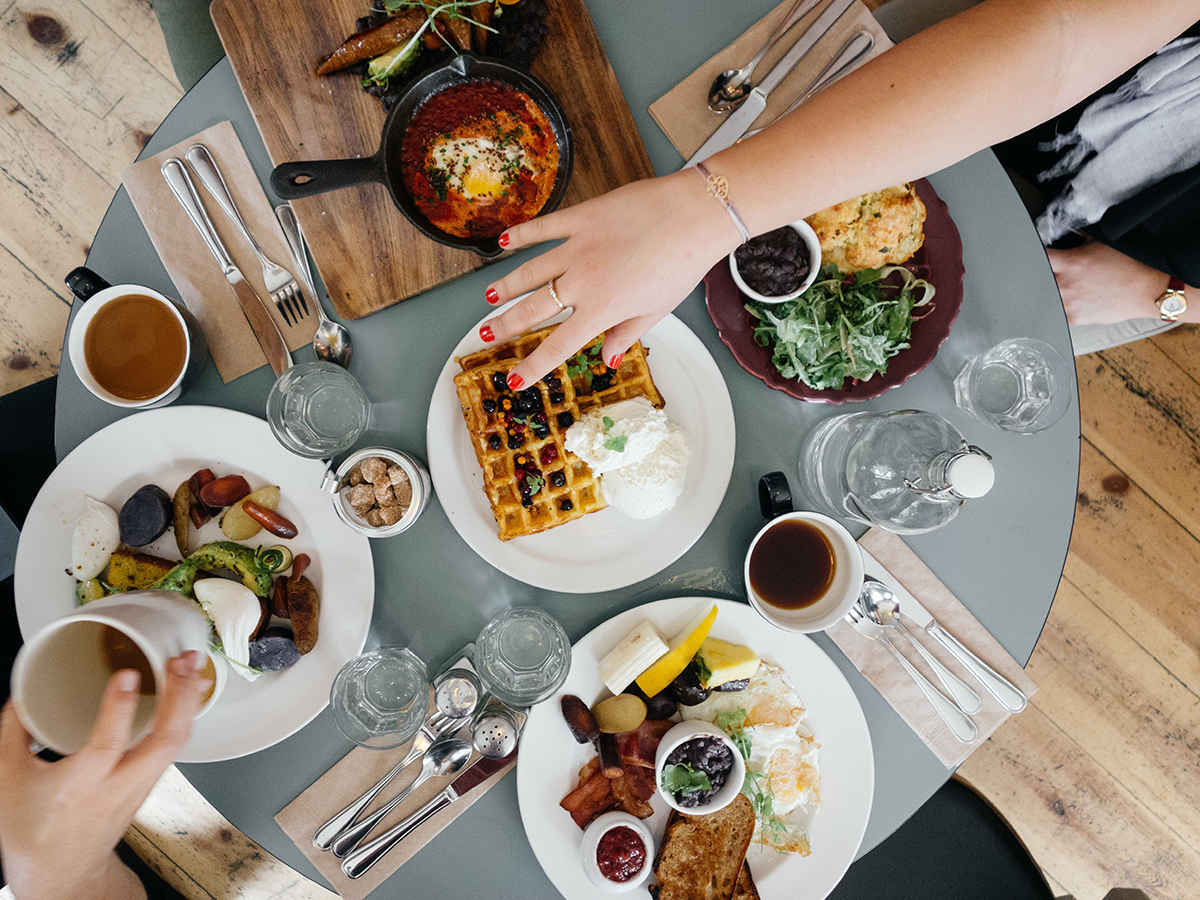 Konstanz and Kreuzlingen offer you a few delicious options. (Photo: Unsplash / Ali Inay).
#1 On both sides of the Rhine: Holly's "Seerhein" and "Lago" locations
Need a classic breakfast or some fresh ideas? Drop by in the morning for both. You'll love the eyecatching plates of breakfast foods and the cosy retro decor of Holly's, whether you're peering out at the Seerhein riverfront or dining in the city centre. The second location in the Lago shopping centre is a great spot to grab a bite before getting some shopping done.
"Seerhein" location: Reichenaustrasse 19, Konstanz, Germany | Brunch: Sat and Sun: 10:00 – 12:00
"Lago" location: Bodanstrasse 1, Konstanz, Germany | Brunch: Mon – Sat: 9:00 – 12:00
Prices: Cappuccino: € 3.50 | "Bircher" style muesli: € 3.20 | Pancakes with fruit: € 6.90 | www.hollys.de
#2 Café Auszeit: A place to relax in the "Paradies" quarter
Café Auszeit is located just a few minutes' walk from the HTWG campus. After opening in 2017, the café has quickly become one of the most popular locations in "Paradies", and for good reason. At any time of day, you can enjoy a wide range of drinks, snacks and cakes – but the breakfast menu is the real highlight. Café Auszeit serves classic breakfasts as well as sweet pancakes with a lot of attention to detail.
Address: Wallgutstrasse 42, Konstanz, Germany | Brunch: Tue – Sun: 9:00 – 14:00
| Prices: Cappuccino: € 3.40 | "Bircher" style muesli: € 3.20 | Pancakes with maple syrup: € 6.90 | www.auszeit-kn.de
#3 
Superfoods and lots of power: Café Bloggers has fresh energy
The newly remodelled Café Bloggers on Stephansplatz has lots of fresh culinary ideas as well. The breakfast menu is chock full of fruit smoothie bowls, warm bagels and more treats. If you want to have a great selection for breakfast, this is the place for you. Especially in the summertime, you really could spend the whole day in the comfy beer garden.
Address: Sankt-Stephans-Platz 25, Konstanz, Germany | Brunch: Tue – Fri: 9:30 –16:30, Sat and Sun: 10:00 – 16:30 | Prices: Cappuccino: € 3.10 | "Bircher" style muesli: € 4.90 | Pancakes with fruit: € 7.90 | www.bloggers-kn.de
#4 
If you like a sweet treat in the afternoon, "Burro Burro" is just the thing
One of the favourite places for students is just on the edge of the old town. Burro Burro serves savoury Mexican burritos during the day – the restaurant's true "bread and butter" – but you can also get breakfast there until 18:00! Check the menu regularly for new items, since Burro Burro is really very affordable when you have a lion's hunger.
Address: Bodanstrasse 41, Konstanz, Germany | Brunch: Mon – Sun: 11:00 – 18:00 | Prices: Slice of New York cheesecake € 3.50 | Pancakes with fruit: € 5.50 (+ bacon € 2.00) | www.burroburro.de