Veggie flavour in Konstanz and Kreuzlingen: 10 tips for vegans and vegetarians
Looking for a meat-free meal made from fresh, regional and sustainably produced ingredients? Konstanz and Kreuzlingen have loads of restaurants, cafés and bars where you can enjoy vegetarian or vegan specialities. Whether you're in the mood for fast food, a gourmet meal, breakfast or dinner, sweet or savoury dishes, we'll show you where to find alternatives to steak, sausages and the like.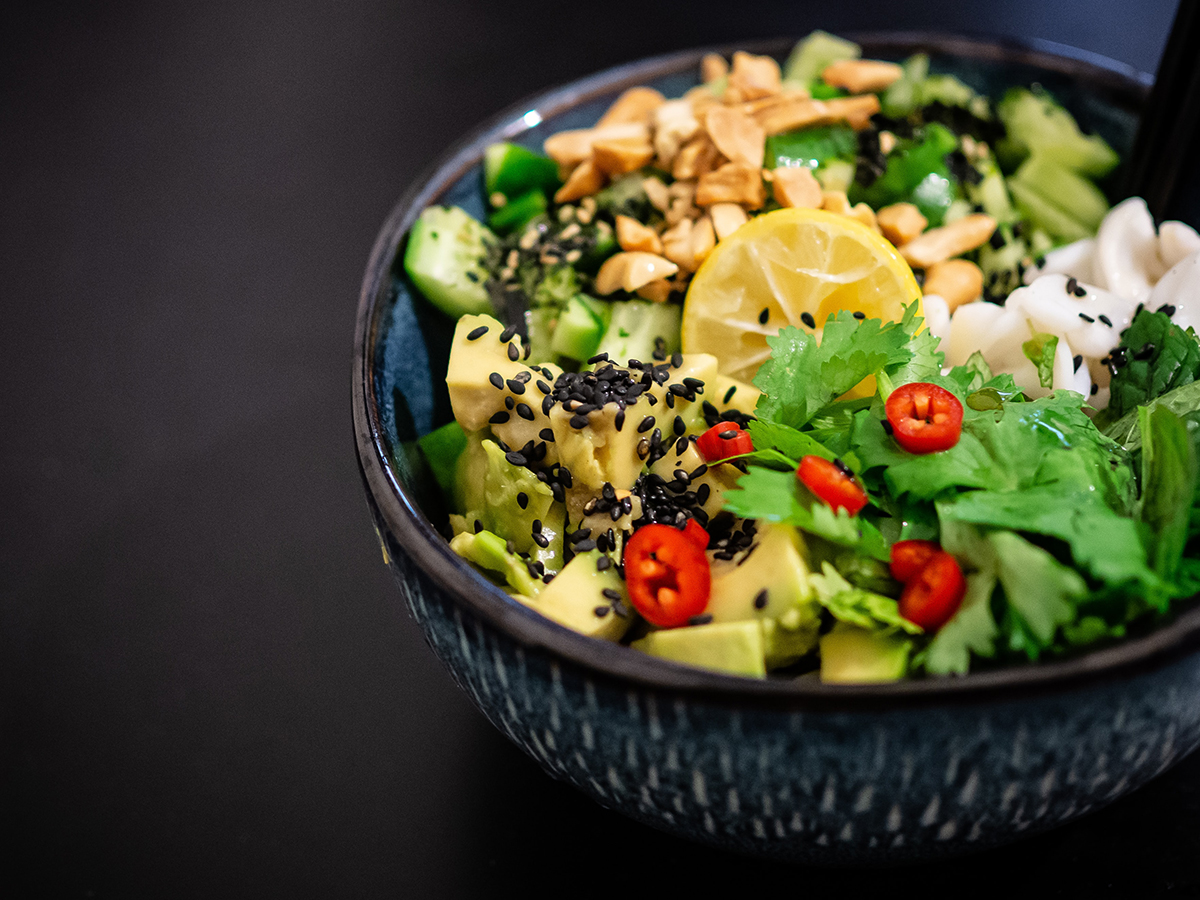 Dining without meat or animal products: From vegan "Döner" pockets to fine dining, Konstanz and Kreuzlingen have a lot to offer vegetarians and vegans. (Photo: Unsplash / Yoav Aziz).
#1 Fair, regional and seasonal: Eugens Bio Café.Restaurant in the Konstanz city centre
Eugens Bio Café.Restaurant has plenty of vegetarian, vegan, gluten-free and organic foods to tempt your taste, alongside meals with fish and meat. The ingredients are mainly seasonal and regional products, which means the menu changes along with what's available. This is just the place if you like a small cosy café to enjoy a cup of fairtrade coffee, a sweet or savoury breakfast, a wide range of lunch dishes or a piece of cake. The colourful pillows and wooden benches invite you to take a seat and let the world go by as you watch through one of the large windows.
#2 Small and special: Café Sol located by the bike bridge
Plant-based: Café Sol serves only vegan meals. You can choose between organic milk and dairy alternatives for your coffee. The café's location makes it easy to reach by crossing the bike bridge from the city centre. It's just across the Rhine in a vibrant part of town. Choose from the wide variety of coffee specialities, smoothies with changing ingredients, vegan burgers and sausages, noodle dishes and salads on the menu. Treat yourself to a slice of homemade cake afterwards – vegan, of course. The website veganfreundlich.org rates the café as one of the most vegan-friendly places in Germany.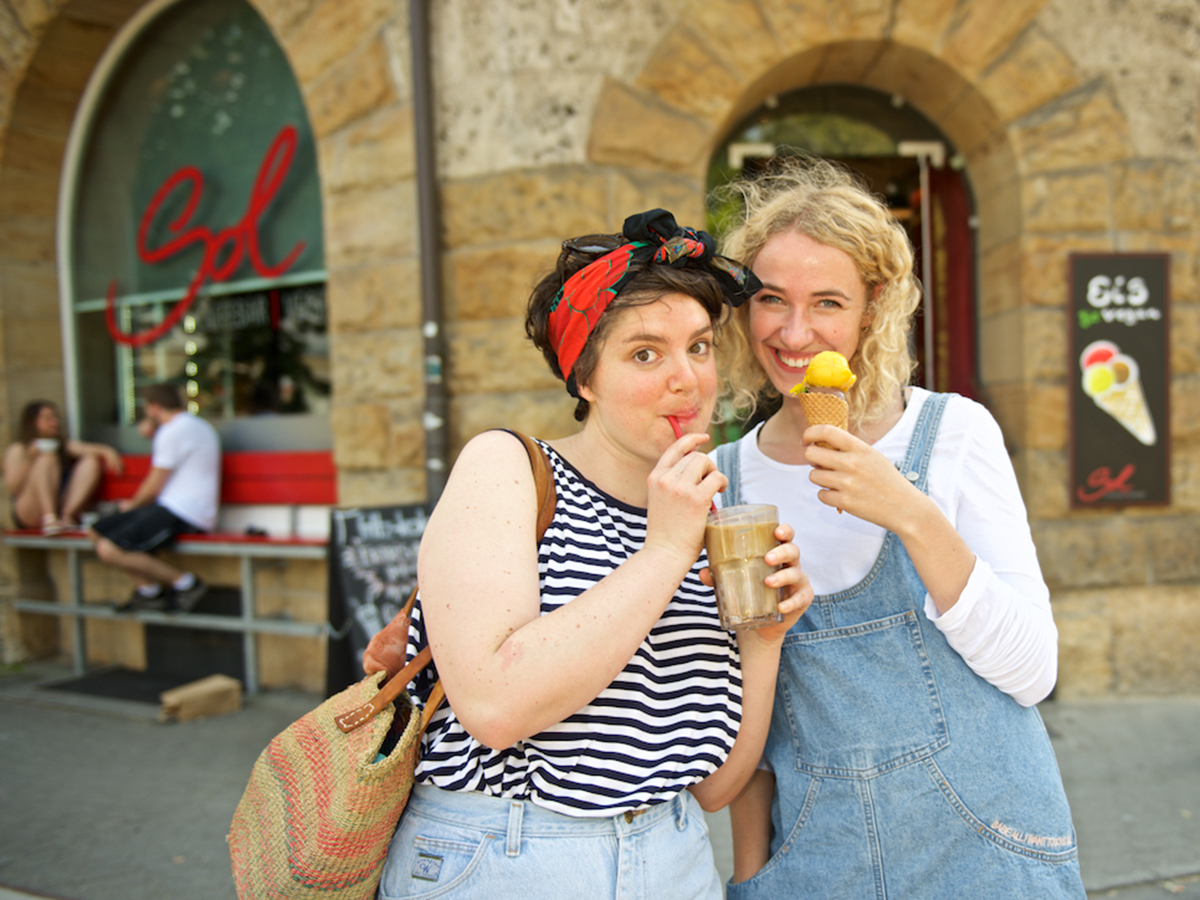 Vegan burgers, ice cream, banana bread – Café SOL serves sweet and savoury treats by the bike bridge (Photo: Café SOL).
#3 Fast and affordable: Suppengrün near the city centre
The restaurant Suppengrün is located near the city centre and offers a healthy alternative to fast food. It serves a colourful selection of soups and salads with regional ingredients and a wide range of dishes for vegetarians and vegans. Enjoy your meal served with fresh-baked rolls and, for just € 1.50, as much still or carbonized water as you like.
#4 Falafel and seitan instead of meat: Bodensee and See Kebap Haus
Looking for a quick lunch that will really satisfy your hunger? Instead of a flatbread pocket with meat, vegetarians and vegans can get alternatives with falafel, cheese or seitan at many of the places serving "Döner" in Konstanz and Kreuzlingen. And where are the tastiest vegetarian/vegan options? Anna, a student who is also a vegetarian, says it's the Bodensee Kepab Haus on Marktgrafenstrasse. What's so special about it? She thinks the falafel there are especially crisp. A vegan option with seitan is available, for example, at See Kebap Haus on the bike street near the HTWG Konstanz.
#5 Fine vegan cuisine: The restaurant in Kreuzlingen's Hotel Swiss
If you want to treat yourself to something really special, the restaurant in Kreuzlingen's Hotel Swiss is just the place. On Friday evenings, you can enjoy one of the multi-course vegan meals created by gourmet chef Raphael Lüthy. Every first Sunday of the month, you can eat brunch until 14:00 for CHF 30. Reservations recommended! In addition to vegan menus and brunch, the restaurant also offers vegan cooking classes from time to time.
#6 Sweet secret: Eiscafé Nicoletti on Marktstätte
A cold delicacy without any animal products: The Eiscafé Nicoletti on Marktstätte is a great place for vegans. They have eleven vegan flavours of ice cream, which is great to know if you are looking for a sweet and refreshing treat on a hot day in Konstanz.
#7 Fresh, wrapped veggies: The Sushibar Tatsumi on Wollmatinger Strasse
Tatsumi is a little hidden away next to the dm drugstore on Wollmatinger Strasse. Behind the bar, you'll find the cooks working away on fresh futomaki, nigiri and maki rolls. The last two kinds are also available in different vegetarian options. Instead of fish, look for pickled garden radish, avocado or pumpkin in the tasty rolls. The vegetarian platter "Kyoto" costs € 14.50.
#8 Whenever hunger strikes: Enjoy Heinrich essen&trinken by Sankt-Stephans church
Any time of day, it's worth stopping at Heinrich essen&trinken across from the Sankt-Stephans church for coffee, tee and cake, breakfast, smoothies, bowls, curries and drinks. The menu includes both items with meat and fish as well as a lot of vegan and vegetarian alternatives such as a bagel with arugula, grilled vegetables and an antipasti spread, the bowl with tofu, sweet potato and coleslaw, or the veggie wonton with kimchi. You can also pick up a coffee with either milk or a dairy alternative and then surf on the free WLAN/Wi-Fi.
#9 Reduce your carbon footprint with plant-based drinks: The Voglhaus on Wessenbergstrasse
Why drink plant-based dairy alternatives? The Voglhaus gives its detailed answer on the website, and it offers you plenty of vegan and vegetarian treats to enjoy, from bowls to breakfast platters, salads, quiche and soups. The restaurant even posts the amount of CO2 saved by ordering a drink with a dairy alternative instead of milk. If you want, you can use one of the cards to collect twelve stamps to get a free slice of cake.
#10 Veggie variety in a burger shop: Burgerheart Konstanz on Bodanstrasse
When you think of a burger, a vegetarian or vegan product does not automatically come to mind. Plenty of burger shops now offer at least one vegetarian and maybe even a vegan option on the menu. But the Burgerheart in Konstanz is really something special, with four vegetarian and three vegan burgers to choose from. The organization veganfreundlich.org thought so, too, and added the restaurant to its list of the most vegan-friendly restaurants in Konstanz.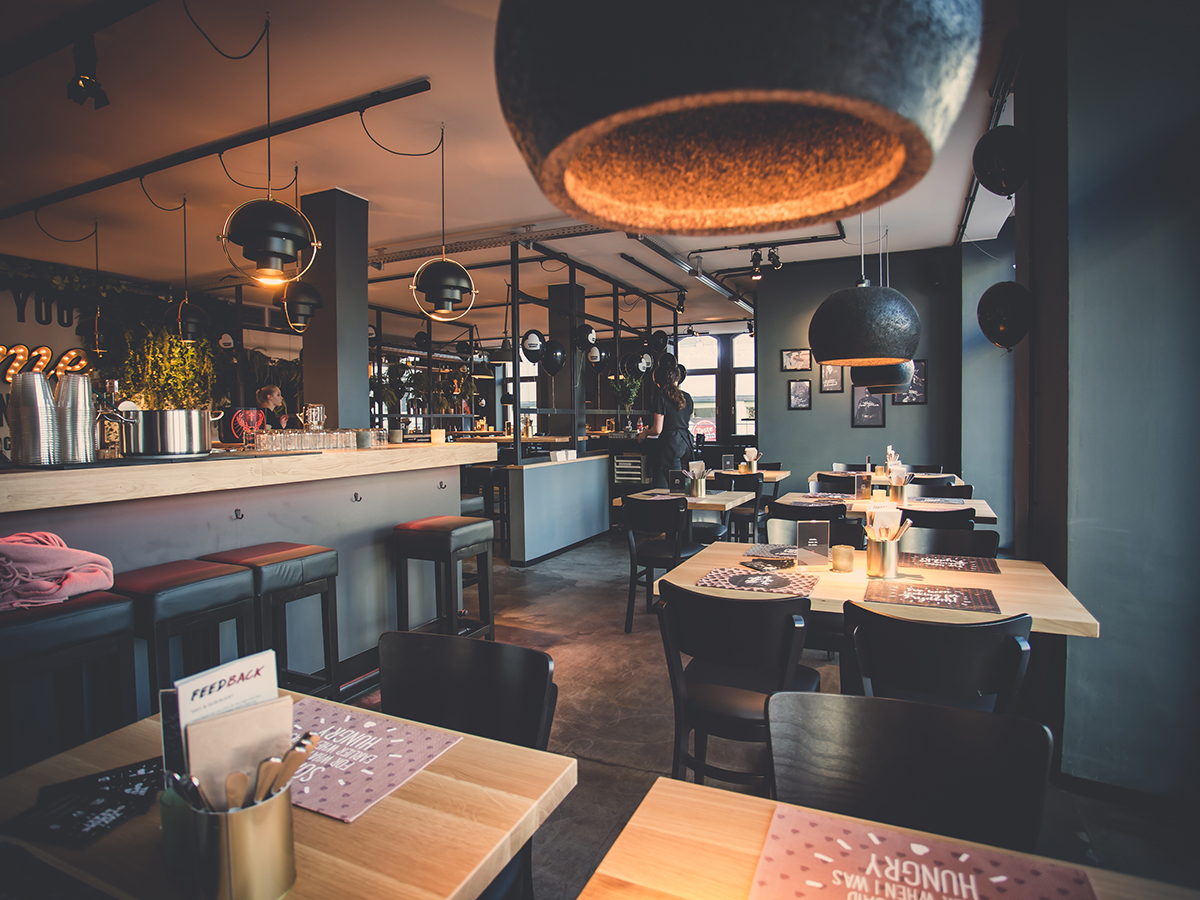 Stylish decor just outside the city centre: Burgerheart on Bodanstrasse (Photo: Burgerheart Franchise GmbH).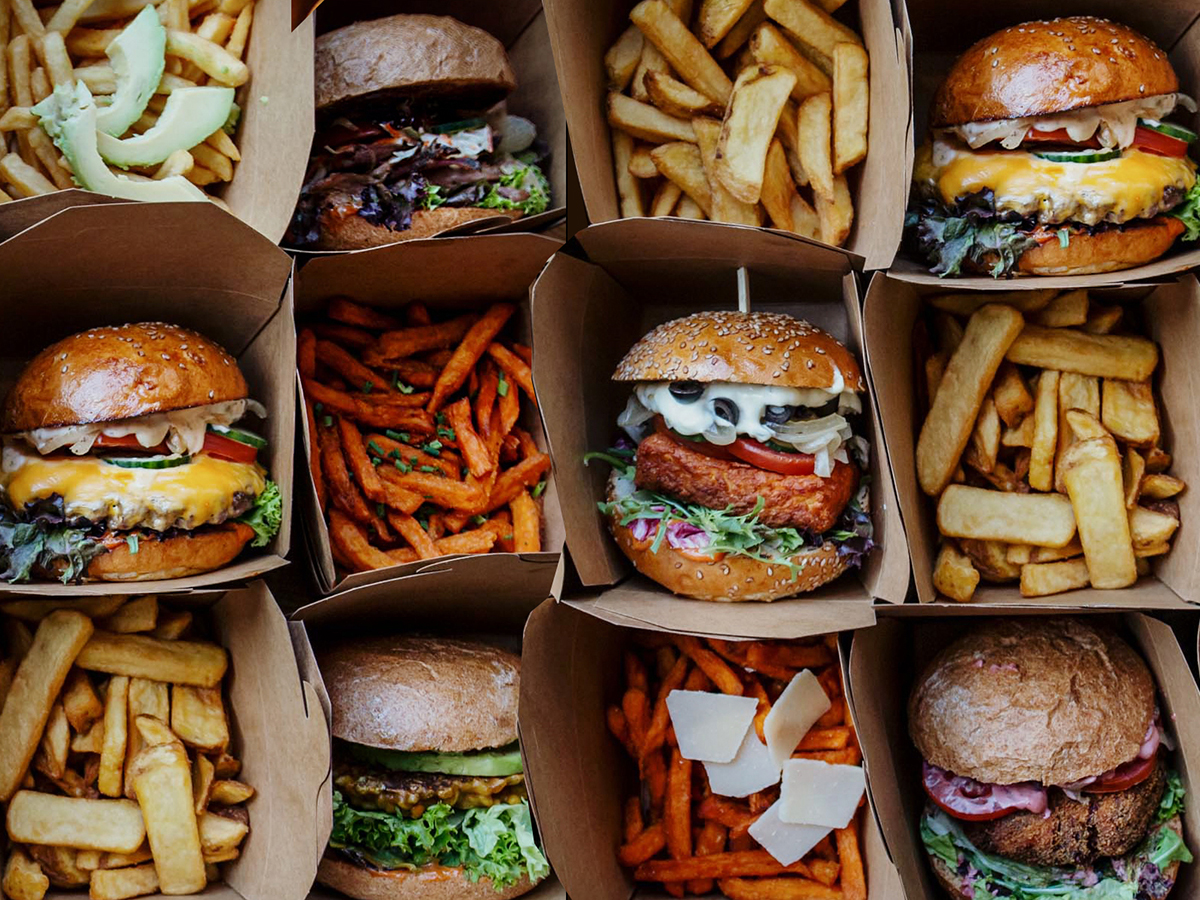 Not just for meat-lovers: choose from a wide selection of vegan and vegetarian burgers as well (Photo: Burgerheart Franchise GmbH).