Informal, practical, interdisciplinary: Studying at the University of Applied Sciences Konstanz
The University of Applied Sciences ("HTWG Konstanz" in German) is the place to go for a degree in the areas of technology, business and design. Enjoy the informal academic atmosphere while getting the professional qualifications and interpersonal skills you need to jump start your career. Keep reading to find out where to get the information and support you need – and why the University of Applied Sciences Konstanz is one of Germany's most beautiful campuses.
Do you want to get a degree you can actually use after graduation? Then the University of Applied Sciences Konstanz is the place for you. Our degrees are practically-oriented, and we have a series of on-campus labs and workshops where you can give your creativity free reign. Take a look at some of the projects our students have developed over the past years: from the self-made drift trike to the currywurst (hotdog) machine to a surfboard with a paddlewheel drive!
Study in an Informal Atmosphere: Interdisciplinary, experimental and direct contact to your professors
Students at the HTWG Konstanz – University of Applied Sciences can not only use the cool facilities in their own department – architecture students have the Art Studio; mechanical engineering students have the Hydraulic Engineering Lab – but students (and faculty) also have access to the one-of-a-kind Open Innovation Lab (OIL), where they can work on their dream projects. Check out the Open Innovation Lab and test out the 3D scanners and printers, CNC production machines as well as augmented and virtual reality systems.
The compact size of our campus and the informal, relaxed communication between faculty and students means you will find your place among the 5,000 students who study here. At the end of your studies, you'll come away with a practically-oriented degree to help you start your career.

Personal Development and Planning your Future: The University of Applied Sciences Supports its Students
Finding your way around a new university can be tricky – even more so for international students. But international is what the University of Applied Sciences Konstanz is all about. And that means a smooth transition for you.
Our degree programs and institutions have a strong international focus. A high percentage of both students and faculty have studied and worked abroad. So, exchange students and visiting faculty will feel right at home on our campus.
You've already noticed that we speak English at the University of Applied Sciences Konstanz, right? But we also offer a bunch classes in English. So, if you're an exchange student, you'll be able to take a full-load of classes in English while enjoying a semester on the shores of Lake Constance. Please get in touch with the friendly folks in our International Office for more information. They're here to help you deal with administrative issues like health insurance or housing and the adjustment to life at the university (sometimes harder than in the movies) and in Constance.
You're also welcome to stay here for your whole studies of course! Just keep in mind that you'll have to bone up on your German skills first. Full-time students need B2-level German proficiency. But why not come to Konstanz and get your German skills right on campus? That's what our Studienkolleg program is all about. Shoot them an email to find out more.
But on top of that, we also see it as our mission to help you adjust to life in Konstanz. And one of the best ways to adapt to life in a foreign city is to get in touch with locals. That's why our International Office team set up the Helping Hand Program, where University of Applied Sciences Konstanz students who themselves had to find their way around a foreign city during a semester abroad, support international students get adjusted here. These students will help you deal with bureaucratic issues but also show you around our lovely region, not to mention introducing you to the nightlife in Konstanz.
But that's just a start. We also have our very own Intercultural Center. What's that, you ask? That's an office dedicated to helping students and staff learn about cultural differences and how to communicate with people from around the world. Check out their website to find courses designed specifically for international students. They offer German classes and a range of workshops on presentations or job applications.
On top of that we have the Student Advising Center with an English-speaking staff focusing on helping students choose the right major, learn study techniques, and adjust to life at a university.
So we got your back. All of this and more can be found on the University of Applied Sciences campus, located in a neighborhood called "Paradise", directly on the Rhine River.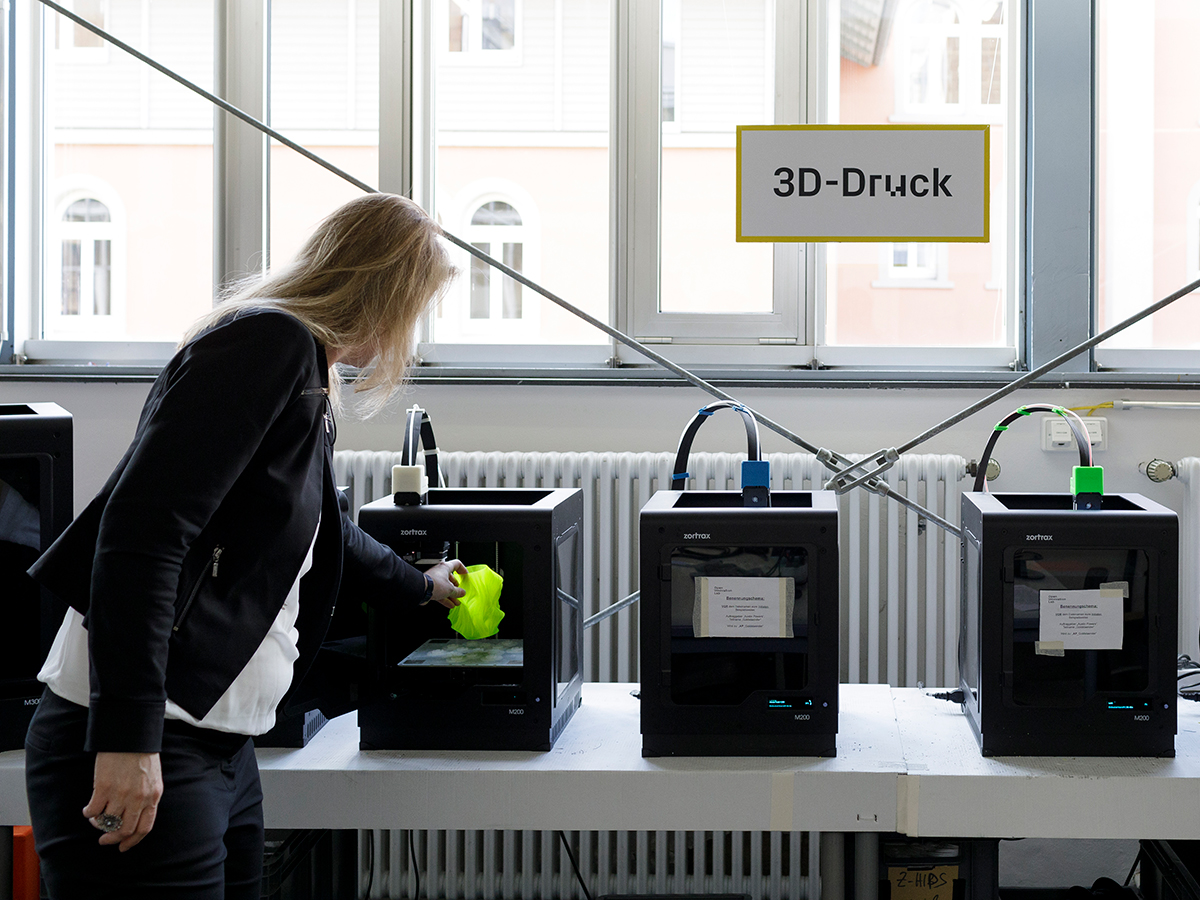 All students are welcome to try out their own innovative ideas in the Open Innovation Lab. (Photo: Hannes Thalmann)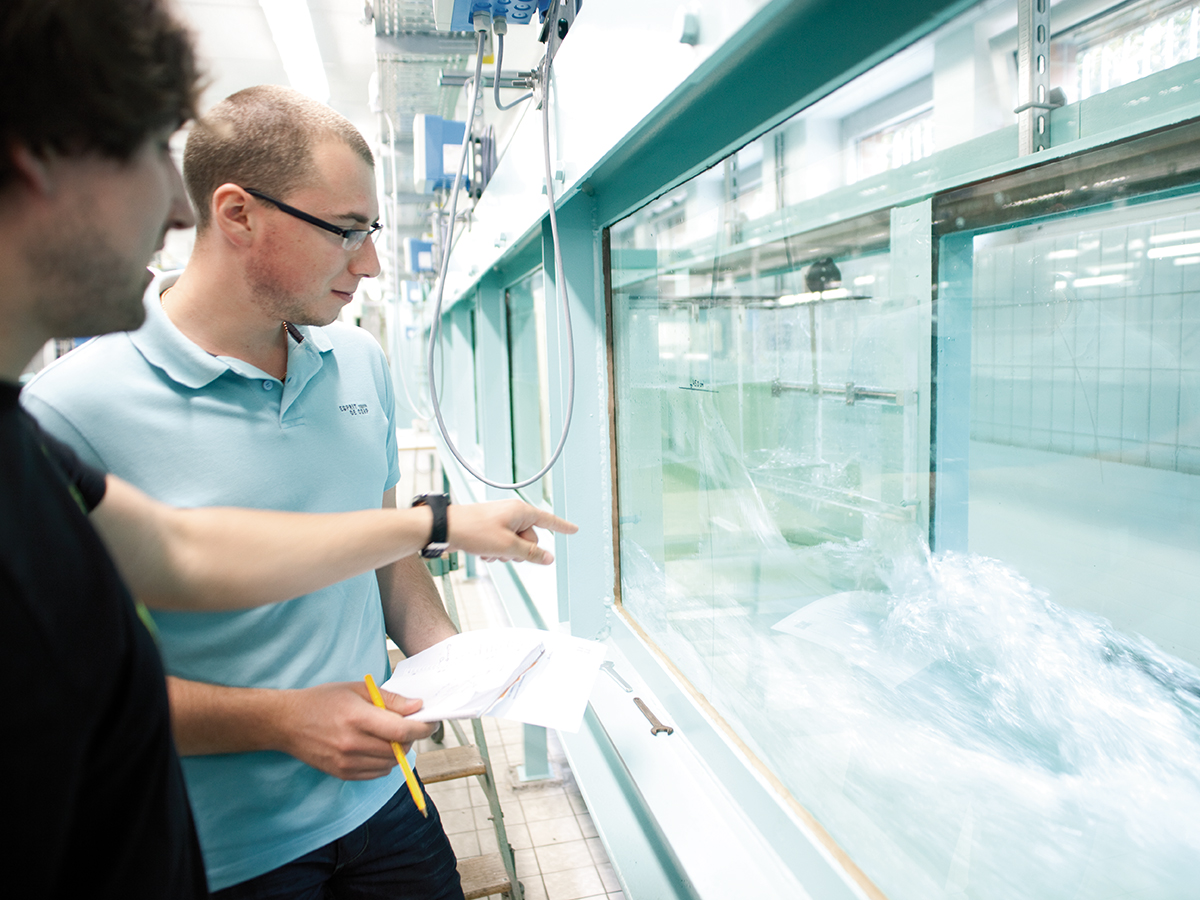 Whether your thing is hydraulic engineering, silk screen printing or ubiquitous computing: Our well-equipped labs give your studies a practical touch. (Photo: Jespah Holthof)
Studying in Paradise: The University of Applied Sciences Konstanz campus is located directly on beautiful Lake Constance
How about telling your friends and family you study in paradise? Well, that's exactly what the neighborhood surrounding our campus is called. The location couldn't be better: directly on the lake and just a stone's throw from the beautiful old city of Konstanz. A truly paradisiacal place. Cross the Rhine River to get to campus and you just might catch a glimpse of the snow-covered peaks of the nearby Alps rising above the lake – and start making plans for a weekend hiking or skiing trip.
Have lunch in our cafeteria with one of the best views of the river in town. And don't miss the beach bar, located directly in front of the cafeteria – a great place to meet some friends, grab a cappuccino or cold drink, put on your shades, dig your feet in the sand, and listen to the chill music. Your stress will dissipate in only a few moments.
If you're overheated from studying in the library in spring, just take a stroll along the Rhine to the "Schänzle", a favorite place for students to take a dip and relax. Or for more civilized swimming, just cross over the bike and pedestrian bridge to the "Rheinstrandbad".
If water's not your things, there's lots more you can do, like finding some inner peace in the gentle nature along the Rhine just over the border towards Gottlieben. Or head into town and stroll through the city's museums. If you're feeling really lazy and don't want to leave campus, just grab a cup of coffee and hang out in one of the hammocks in our cafeteria.
The end of a long day of studying: Live bands and DJs directly on campus
After cooling off in the river and getting a bite to eat, head over to the beach bar in the evening. It's the go-to place in Konstanz at night. Check out the live bands or the DJ's cool grooves.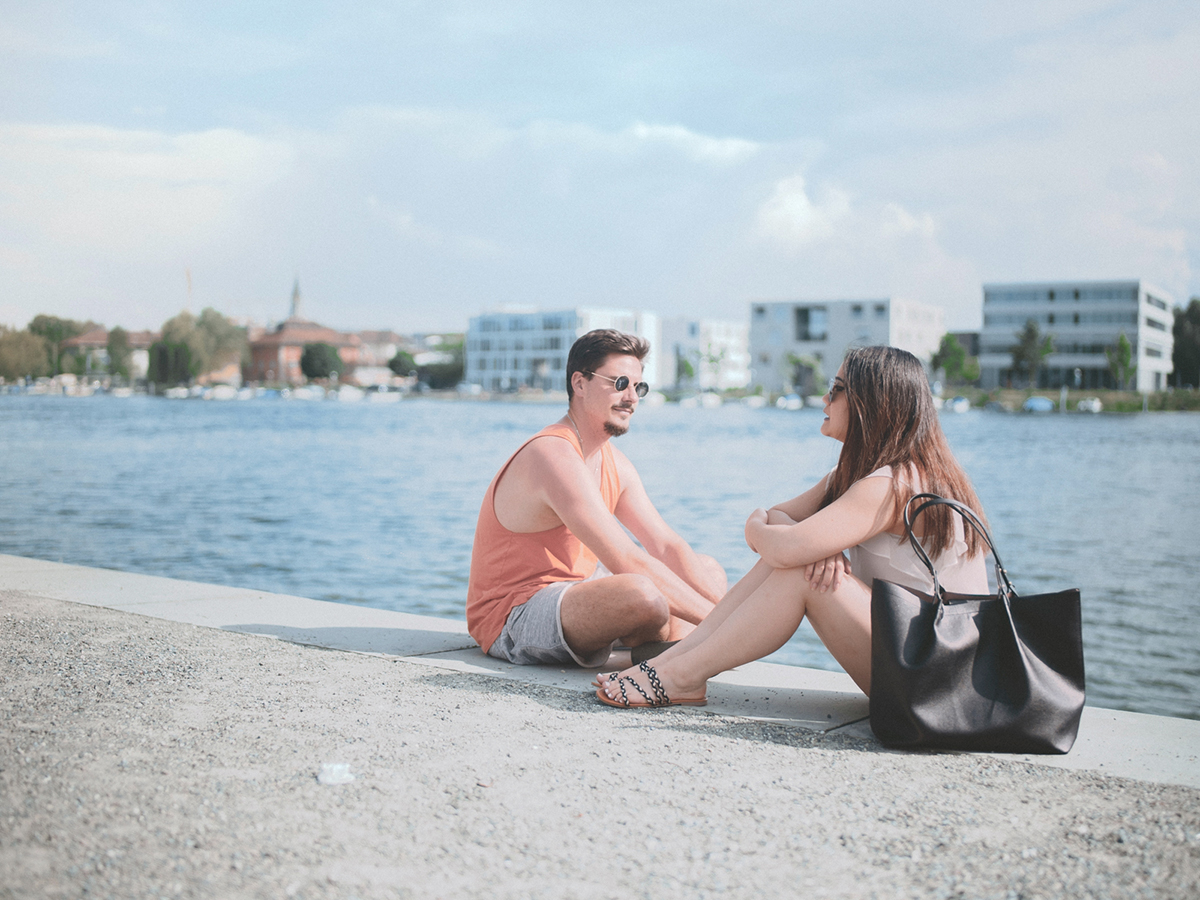 Studying with a view of the river: The University of Applied Sciences Konstanz campus is located directly on the Rhine River. (Photo: HTWG Konstanz)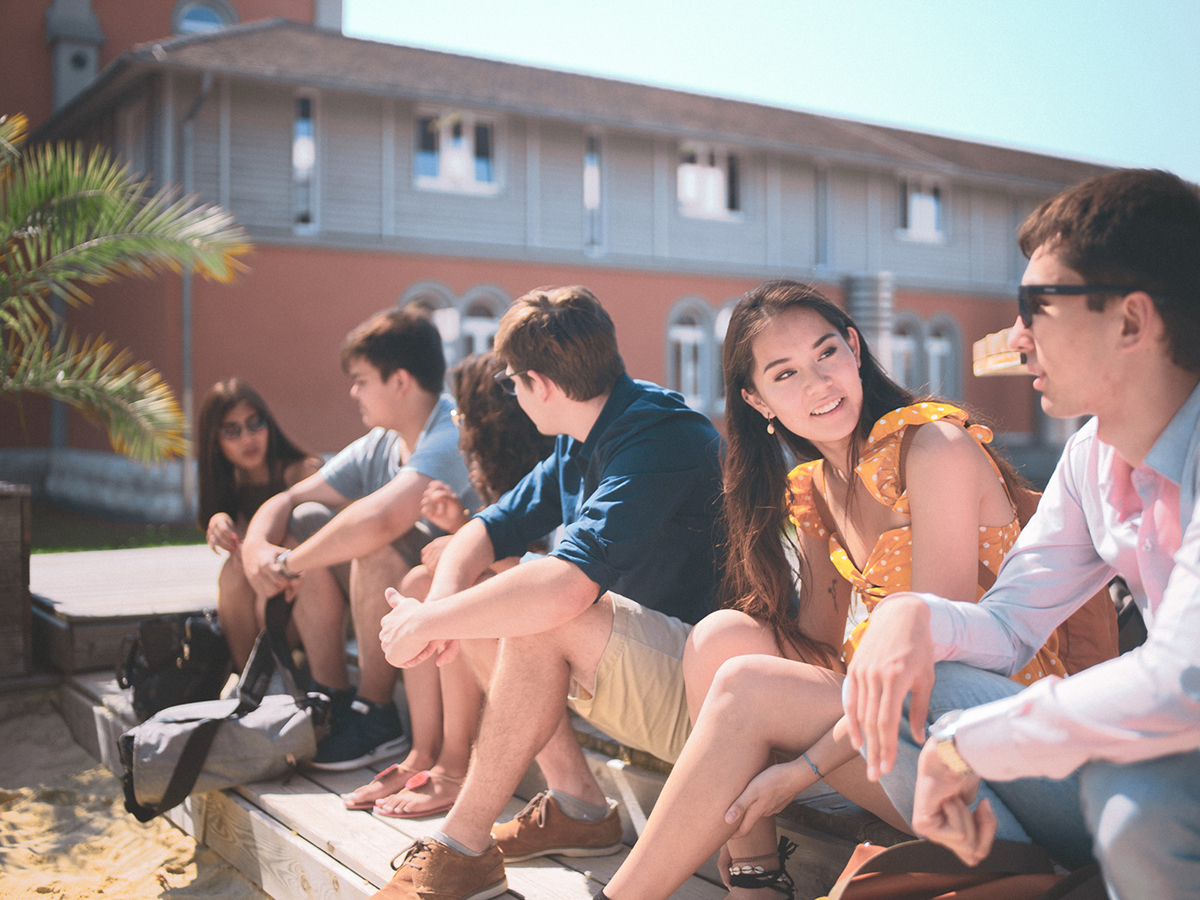 Popular hangout on campus: The beach bar is the in-place to study and relax. (Photo: HTWG Konstanz)
Lake Constance is of course great for all kinds of outdoor activities. But University of Applied Sciences Konstanz students also truly study on the lake. Take a look out the window the next time you're sitting in the library and you're likely to see the Solgenia at anchor. The Solgenia is a boat co-developed by students in the Electrical Engineering and Information Technology department that combines fuel cell technology, photovoltaics and hydrogen technology. This boat is in a class by itself thanks to this unique mix of technologies. You, too, can get involved as part of such grant projects.
If you're betting more on wind power than solar, you may want to check out our sailboat, the "X-Presso". We offer sailing courses almost every day in the summer. Just between you and me: This is by far the cheapest way to get your Lake Constance sailing license. Don't miss out!
And if you're the kind of student who likes to take part in extracurricular activities, we have lots to offer at the University of Applied Sciences Konstanz – click here and scroll down to our "Culture, Sports, Etc." list. You'll find everything from our own radio station, to the theater group, big band, and even our well-known Bodensee Racing Team!
How to get in touch with the HTWG Konstanz – University of Applied Sciences Konstanz
Getting to Campus:
Why don't you stop by for a visit some time? You can find our campus in the Altstadt/Paradies neighborhood. The easiest way to get here is by bike or on foot. Or hop on the 1, 2, 3, 9B, 12 or 14 buses to the Schottenstraße stop, or take the #5 to the Ellenrieder Gymnasium stop. It's only a short stroll to our campus on the Rhine River from there. Look for the friendly, satisfied students. You can't miss it!