Summertime on Lake Constance: 9 ½ great beer gardens in Konstanz
The best season to be at Lake Constance is, of course, the summertime. What could be better than spending warm summer nights outdoors with friends and fellow students enjoying a nice cool beer together? Thankfully, Konstanz has quite a few beer gardens within close reach of the Lake. Julia, who is from Konstanz, can show you around.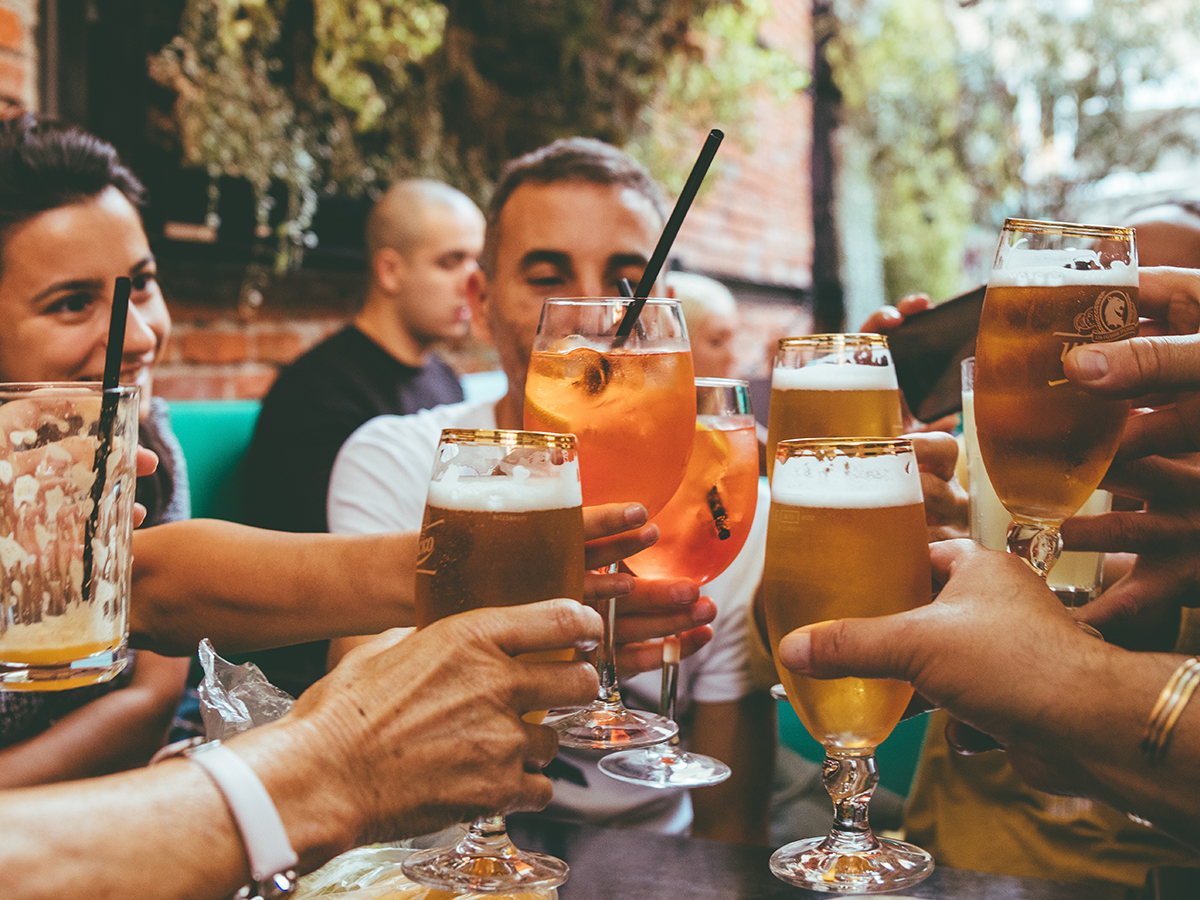 Simply part of summer: Beer gardens are everywhere in Konstanz and Kreuzlingen (Photo: Unsplash / Fred Moon)
#1 Nearby and affordable: The Uni-Biergarten on the university campus.
After a hard day at the university, you don't have to travel far to reward yourself with a cold beer in one of Konstanz's beer gardens. The sunny Uni-Biergarten, for example, is located on campus and offers drinks from April through August at affordable prices. You can even borrow a blanket if you would rather recline on the grass than sit in another chair after a long day of classes.
#2 Shady beer garden on the river Rhine (Seerhein): Die Seekiste
The Seekiste beer garden is the meeting place for students on the riverside promenade. Why? After sunbathing by the river, it's just a stone's throw away. The large beer garden is located in the shade of a massive tree, meaning you can enjoy even a hot summer's day there with a beer fresh from the tap.
#3 Hafenhalle: longstanding beer garden with a view
The beer garden institution in Konstanz is the Hafenhalle (with its own restaurant). Salads, schnitzel, sausages and beer, sometimes even funky live bands, sport events on TV and, of course, an unbeatable view of the harbour: One could stay here forever.
Hafenhalle, Hafenstrasse 10, Konstanz, Germany
Opening hours: Mon – Fri starting at 12:00 | Sat, Sun, and holidays starting at 11:00
Prices: A portion of fries € 3.20 | Knuckle of pork with sauerkraut and dumplings € 10 €
www.hafenhalle.com | www.facebook.com/Hafenhalle/
#4 Insider tip: The beer garden Le Sud behind the Exxtra restaurant
Weighed down by heavy shopping bags and ready for a break? Why not stop by Le Sud, hidden away behind the Exxtra restaurant between the pedestrian zone and Laube street? The sweet and savory crêpes and grilled food are a real treat.
#5 Stromeyer: A quiet beer garden by the water tower and the beach
If you want to avoid the rat race, the scenic and peaceful Stromeyer beer garden location is ideal. The beer garden is located in the Stromeyersdorf industrial area next to the historic Jugendstil "Bleiche". If you like, you can hop in the Seerhein river or visit the historic water tower next door before dropping by for a beer.
#6 When you're hungry: Constanzer Wirtshaus
The Constanzer Wirtshaus is both a beer garden and a restaurant. This means the menu has more to offer than the usual sausage and chips, grilled chicken and salad. Lighter meals include the "Vesperbrett" (cheese, cold cuts, bread etc.) and "Wurstsalat" (a meat-based salad). If you're really hungry, you might go for pork knuckle or shredded beef. Enjoy your meal on the riverfront patio if you like.
#7 A fantastic view: Fischerhaus beer garden in Kreuzlingen
The Fischerhaus is located in lakeside Kreuzlingen between Seeburgpark and the Strandbad Hörnli beach. The beer garden is much more affordable than the Fischerhaus restaurant, which means it's an option for students to drop by occasionally. Make sure to have enough cash for the higher prices in Switzerland. It's a cosy place to relax and enjoy the sunset at the lake. After having a beer, crisp pizza or tasty burger, why not go for a stroll along the harbour promenade?
Fischerhaus, Promenandenstrasse 52, Kreuzlingen, Switzerland
Opening hours: Mon – Sun starting at 10:00 (May to August)
Prices: On-tap beer 1/2 litre: CHF 5.90 | Chips: CHF 8.90 CHF | Classic hamburger: CHF 23.90
www.fischerhaus.ch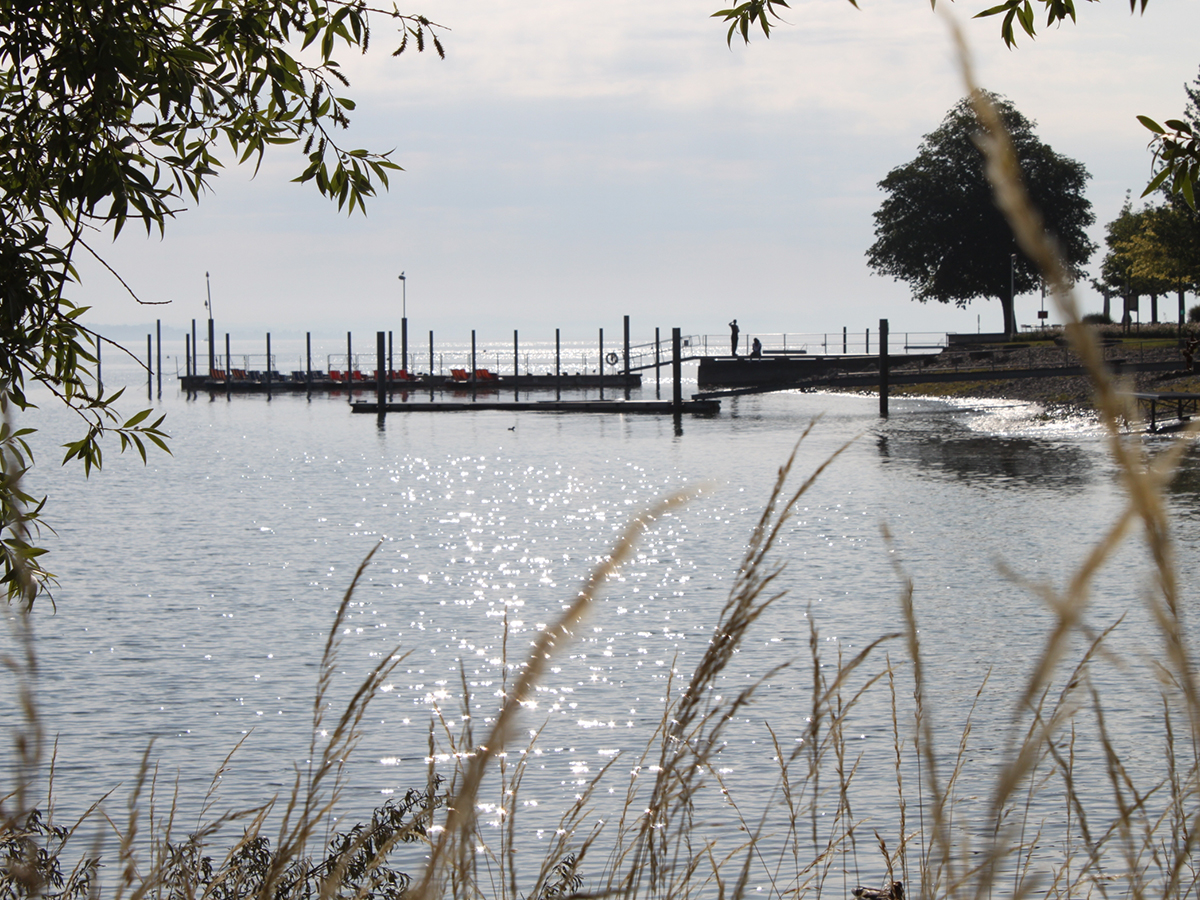 Enjoy a beer with a great view at Fischerhaus beer garden in Kreuzlingen (Photo: City of Kreuzlingen)
#8 St Katharina: A beer garden in the forest by Mainau Island
Deep in Mainau forest you can stumble upon the St Katharina beer garden. It is not located directly on the island, but in a clearing next to the "Erlebniswald Mainau" climbing park just a short walk from the university. You can book a grill package for groups, with halloumi cheese for vegetarians. And why not combine the outing with a bit of climbing in the "Erlebniswald"?
#9 Drinks al fresco with music and a touch of leisure: the Strandbar
The Strandbar at the HTWG Konstanz is located directly on the Seerhein campus and offers drinks and a cosy outdoor atmosphere. Relax in a lounge chair and listen to music occasionally played by DJs or live up-and-coming bands.
#9 ½ Special tip: Oktoberfest in Konstanz
Although it's not exactly a "garden", the Oktoberfest in Konstanz is still the right place for those who like to enjoy a beer in a large crowd of revellers. In true Oktoberfest style, with giant tents and traditional attire. And the music? That's a matter of taste. Cheers!
Konstanzer Oktoberfest, Klein-Venedig (near Sealife Center / LAGO)
Opening hours: three weeks in September / October
www.oktoberfest-konstanz.com