Sustainable shopping with plenty of options in Konstanz!
Sustainability is a growing priority for today's shoppers: From fairtrade to organic or unpackaged – the green wave has also reached Konstanz and a range of places for alternative shopping have sprouted up. Fair fashion, zero waste or fairtrade coffee – Vicky, a University of Konstanz student, presents her favourite eco-hotspots.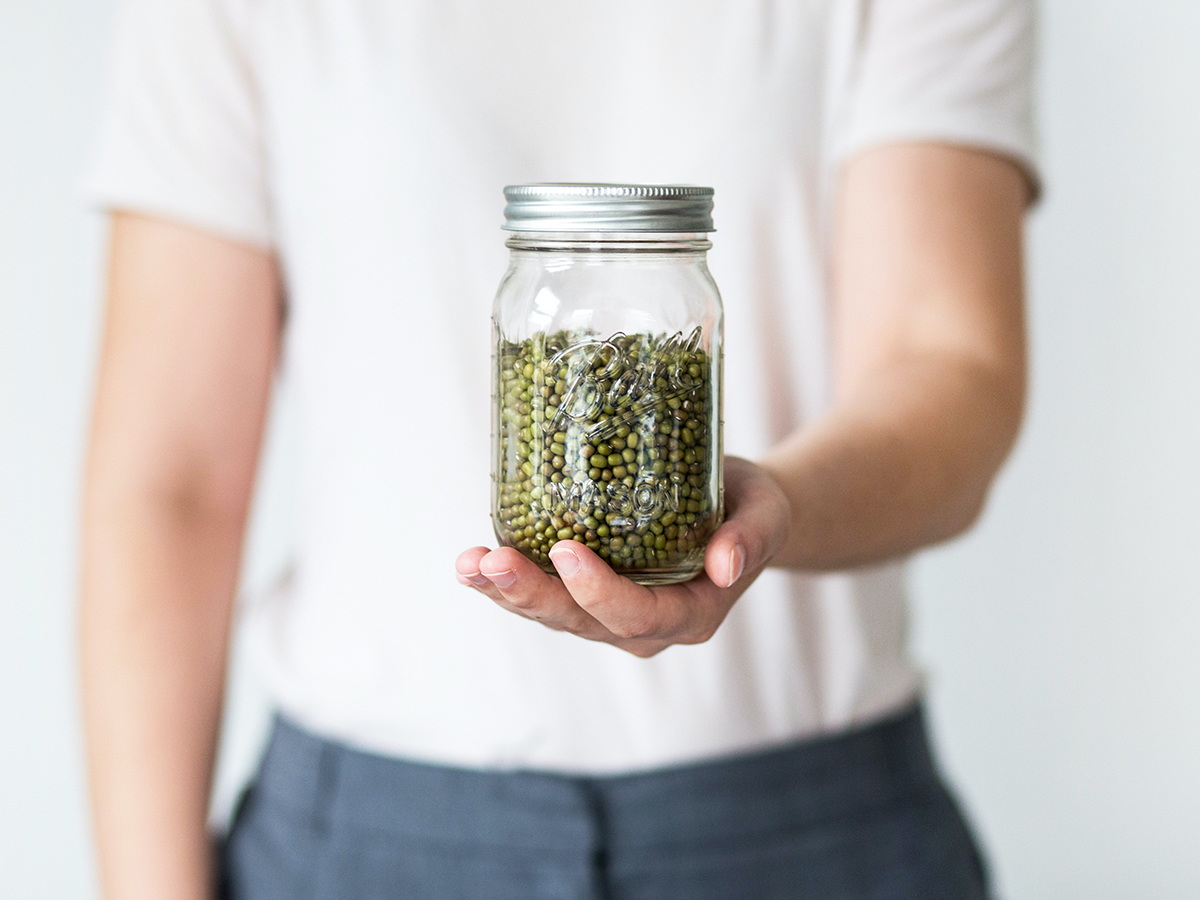 Shopping sustainably at several places in Konstanz (Photo: Unsplash / Laura Mitulla).
Paste, rice and more without any plastic packaging: Unpackaged shopping in Konstanz
Just for good measure: there are two zero waste shops in Konstanz, one in the heart of the old town, and one in the city district "Paradies". If you would like to reduce plastic or packaging waste when shopping for groceries, toilet paper and cosmetics, you should definitely visit one (or both) shops. And don't forget to bring glass jars or jute bags!
A bit hidden between residential homes, in the middle of "Paradies", "Unverpackt Konstanz" is the first shop of its kind in the town on Lake Constance. "Unverpackt" means without packaging. Here you can avoid excessive waste caused by one-way-packaging. Instead, you can fill up your own jars, bottles or bags with the amount you need of rice, pasta, flour, muesli, oil, herbs and so on.
You can also get juice, milk and milk alternatives in glass jars, shampoo bars or large containers of washing detergent. As a bonus, you may sample a few dates for free while weighing your goods.
The products you can buy here are mainly from sustainable, organic and regional agriculture. If regional production is impossible, for example with cashews or coffee, Unverpackt Konstanz offers products from eco-social projects.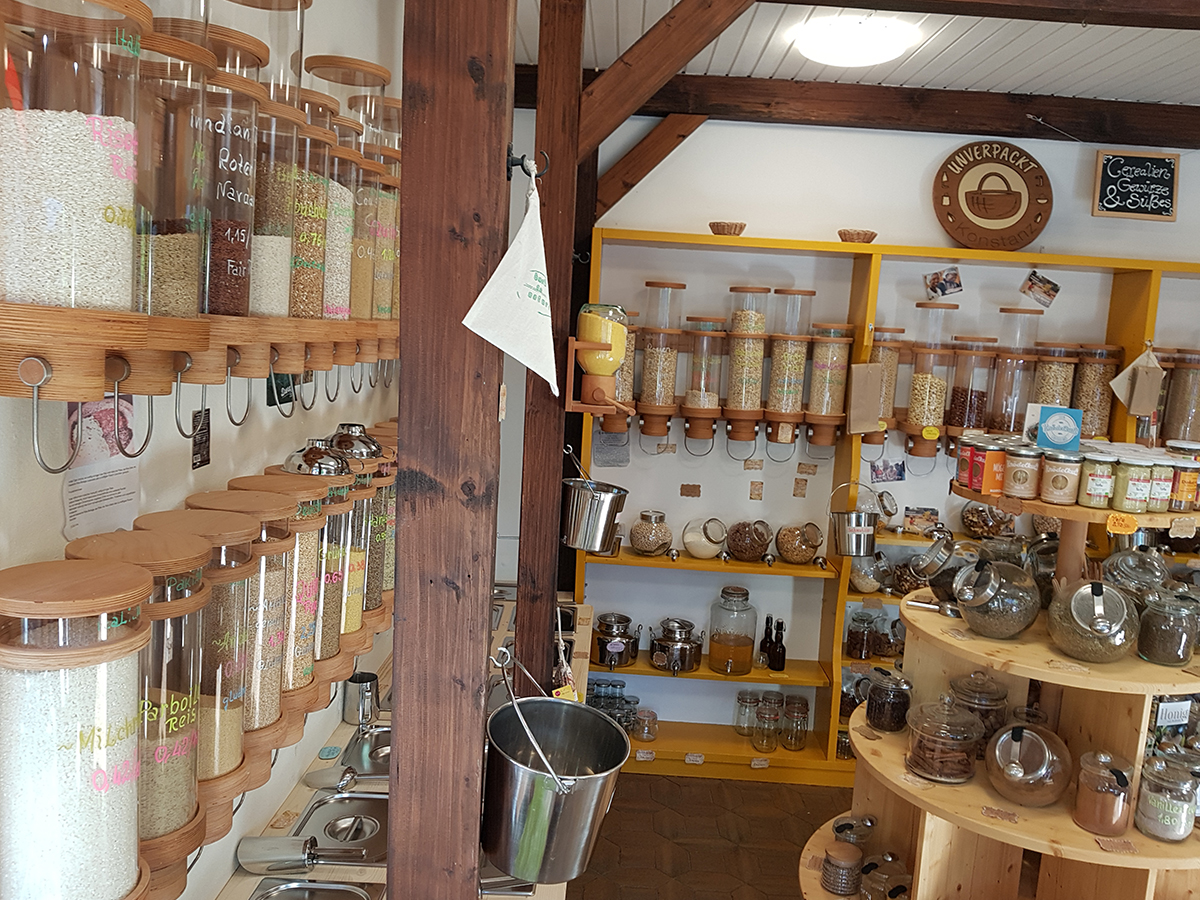 Shopping without packaging waste – this is the specialty of Unverpackt Konstanz (Photo: Unverpackt Konstanz).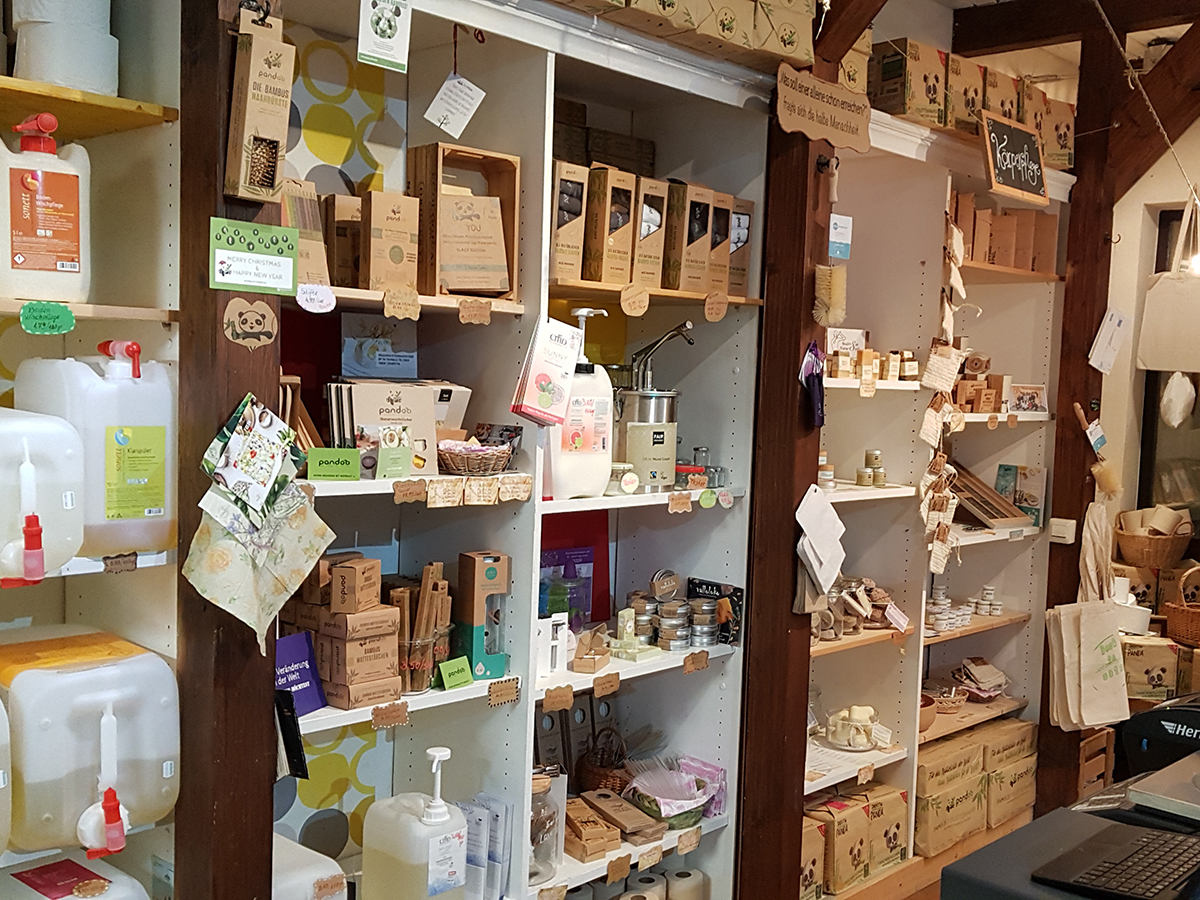 In addition to groceries, you can buy other sustainable products at Unverpackt Konstanz (Photo: Unverpackt Konstanz).
Zero waste shop Silo in Konstanz: Here you can also get sweets and fresh tofu
Only a stone's throw from "Schnetzentor", and a bit easier to reach by bus, is the zero waste shop Silo. Opened in 2019, the concept is pretty much the same: to make the world a better place. The furniture in the shop is second-hand, electricity is green, and here, too, organic quality and regional trade play an important role. At Silo you can get an basic array of flour, rice, pasta, cereal, toilet paper, juice, milk and milk alternatives. Of course you will also find detergents and natural cosmetics. The product range of both zero waste shops is nearly identical, but not entirely:
On Fridays, Silo offers fresh organic tofu in glass jars, produced by the nearby Soma-Tofurei in Friedrichshafen. Have a sweet tooth? Then the Silo sweet titbits will be your thing. It's really hard to walk past the many varieties of gummy bears, licorice and so on. And, why not enjoy a cup of tea, a glass of lemonade or a piece of home-made cake in the shop's café in the inner courtyard?
And if you can't get there because you broke a leg? No problem: Silo will deliver the groceries to your front door by bike (for a charge of 2 to 5 euros).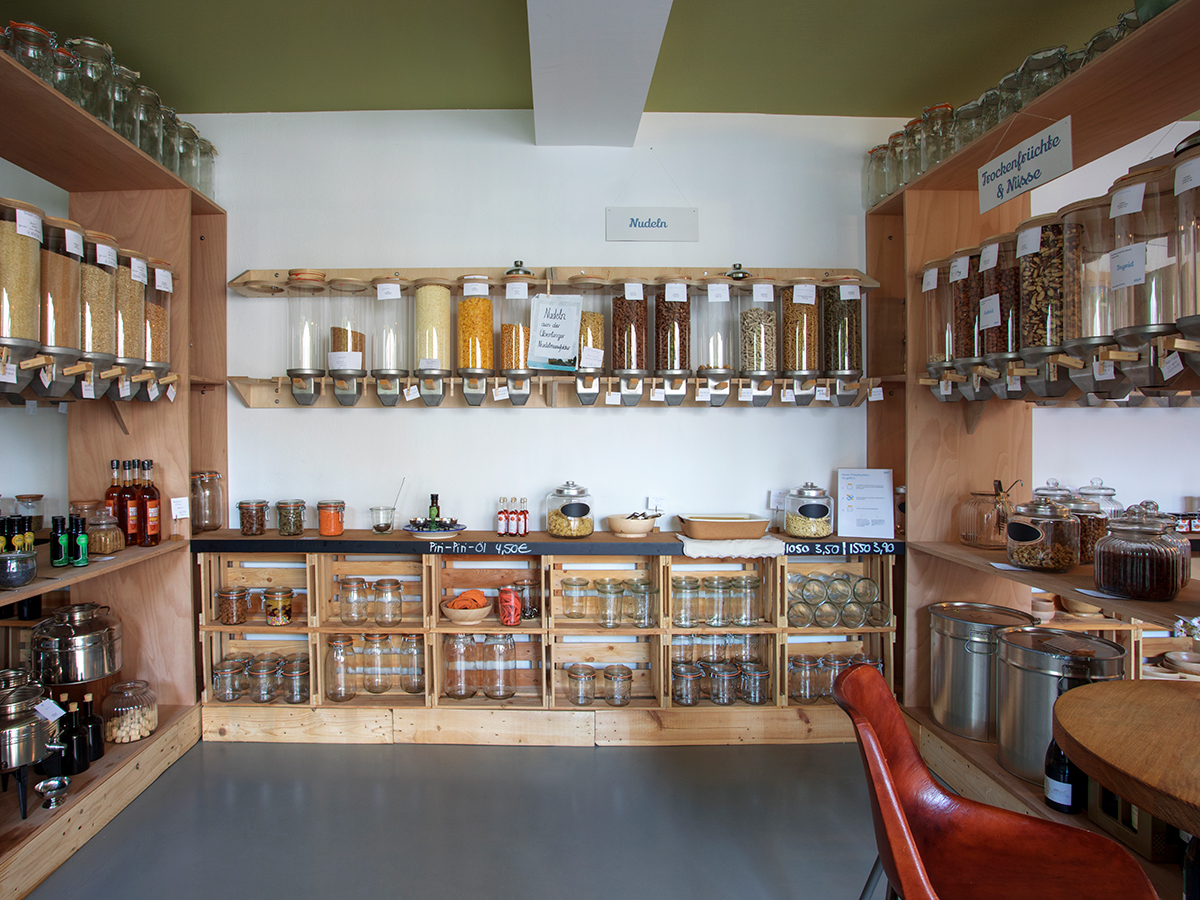 Flour, nuts or lentils – you can fill this and much more into your own jars at Silo Konstanz (Photo: Silo Konstanz).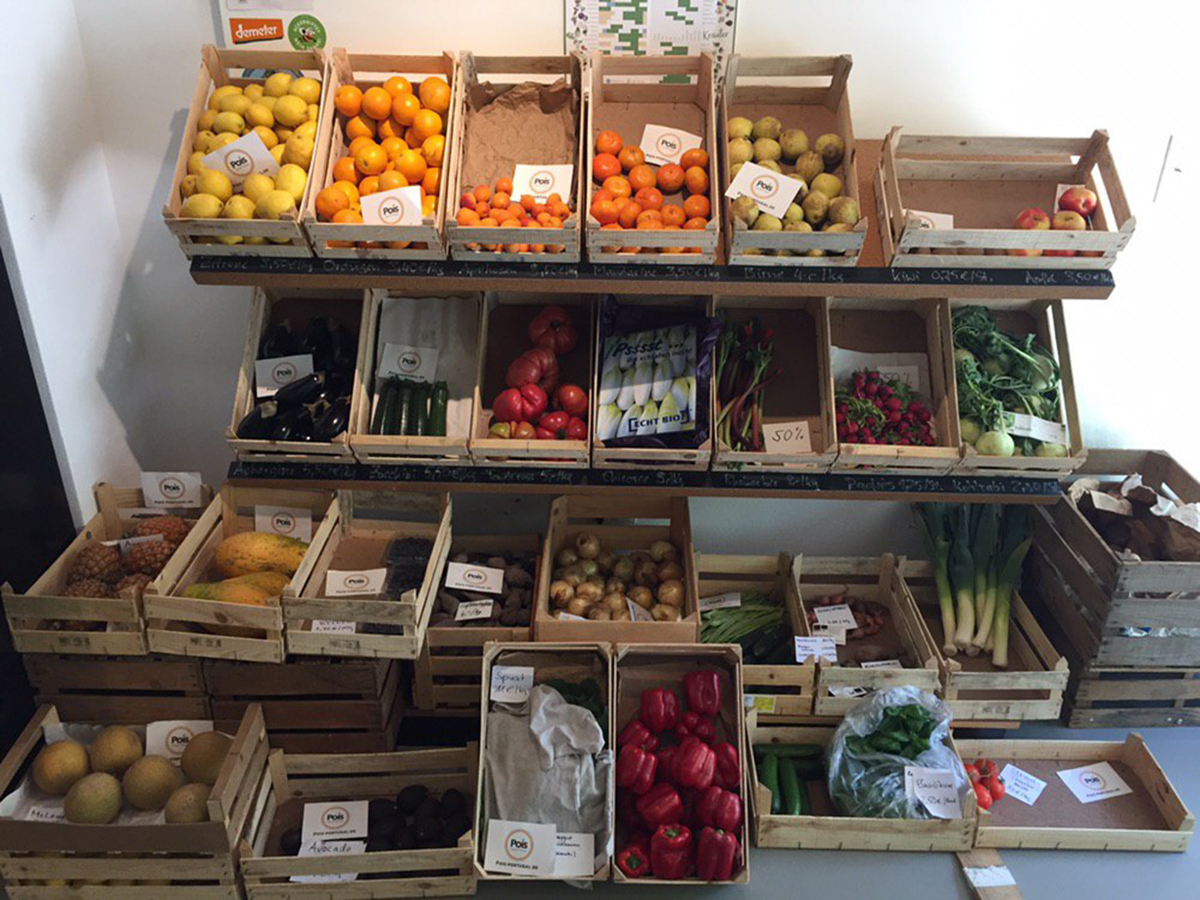 Fancy something fresh? At Silo Konstanz you can also buy fruit and vegetables (Photo: Silo Konstanz).
Freshly roasted coffee and handmade wrapping paper: The fair trade shop CONTIGO in Konstanz
Should you happen to be in Wessenbergstrasse, just close your eyes and follow your nose. Most likely you will end up in the fair trade store CONTIGO. Here you can not only smell the coffee or enjoy it at the coffee bar, but also watch how the coffee is roasted if you are there on the right day of the week. After being roasted, the coffee will be weighed just for you and ground as you wish. Tea lovers are welcome, too: CONTIGO has a great selection of yummy fair trade teas.
But there is not only tea and coffee: look for chocolate, accessories or handmade paper – all fairtrade products. With your purchase, CONTIGO supports small and disadvantaged producers overseas. There is, however, a minor crunch: All the great products are not really priced for the tight budget!
Regional and sustainable products without additives and the like
… are available across the border, in Tägerwilen, just over the Swiss border and easy to reach by bike in about 15 minutes. Feel like you are in a chic, urban market hall: "kilo + gramm" offers vegetables and fruit, bread, cheese, fish and meat in organic (and/or Demeter) quality. Preferably, they sell "Terroir" products, that means products from regional traders or producers. You can buy all your goodies, just as the name suggests, in kilos or, for the somewhat smaller budget, in grams. And, before returning home, you can rest and have a snack in the shop's bistro.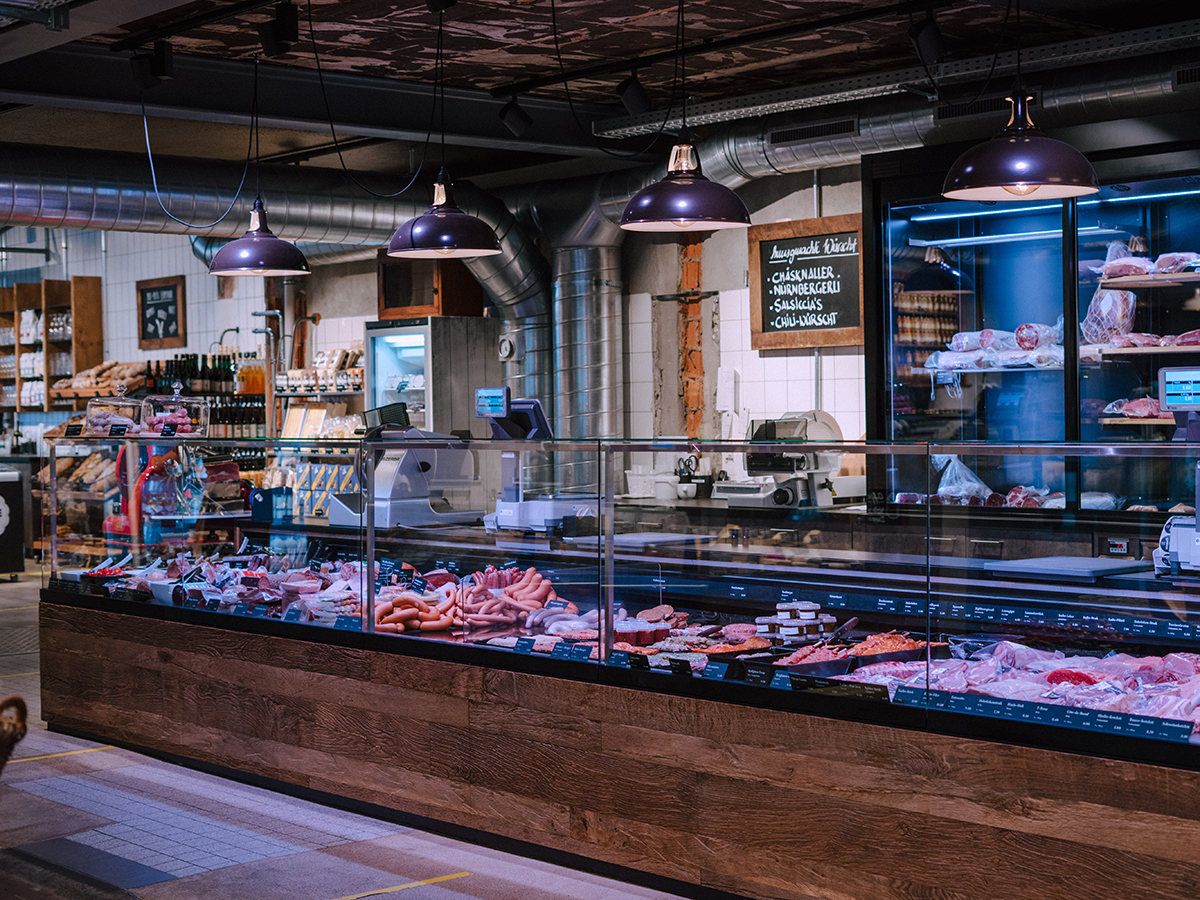 Sustainable shopping in a market hall atmosphere at kilo + gramm in Tägerwilen, Switzerland (Photo: kilo + gramm).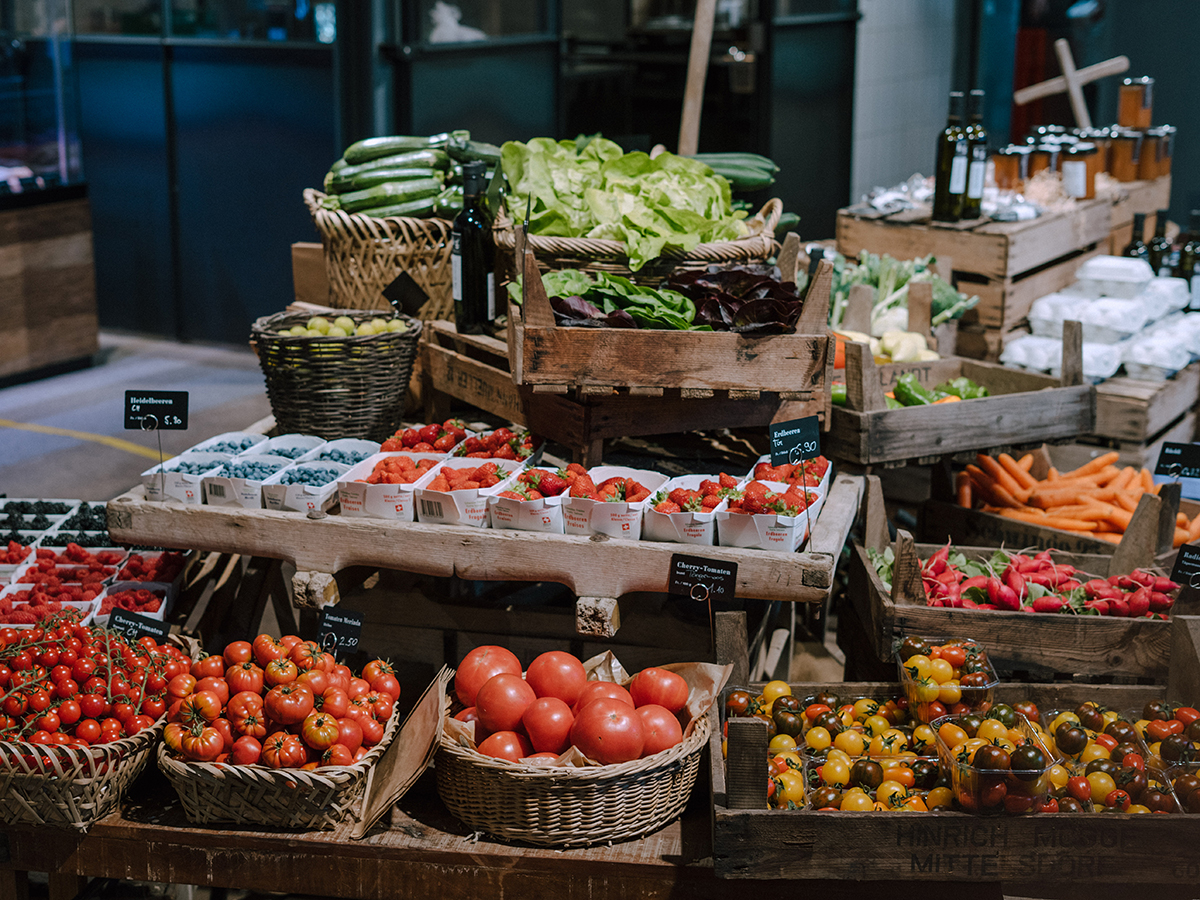 kilo + gramm offers regional fruit and vegetables, and also meat and cheese (Photo: kilo + gramm).
And of course, there are the farmer's markets in Konstanz
Okay, admittedly you will find farmer's markets ("Wochenmarkt") nearly everywhere in the region. But still, in Konstanz they do have a very special flair. If you stroll across Stephans-Platz early in the morning, with the sun just rising and the dew still over the old town, the atmosphere is truly unique. You are very welcome to bring your own jars and bags to pack the groceries. Though some goods may be more expensive than in a supermarket, others are cheaper, and the quality of the goods makes getting up early worth your while at any rate!
Market on Stephansplatz, Stephans-Platz, Konstanz
Tuesdays and Fridays 8:00 – 13:00
Market on Gebhard-Platz, Gebhard-Platz, Konstanz
Wednesdays and Saturdays 8:00 – 13:00
https://www.wochenmarkt-konstanz.de/
And for those of you who like to sleep in, there is an evening market ("Feierabendmarkt") on individual dates:

A few more tips beyond food and co: shops for fair and sustainable fashion
Once you have filled your shopping bags with groceries, you might want to have a look at one of the numerous shops for fair and sustainable fashion. Although your wallet might be unhappy, your conscience will be all the happier.
So, if you are looking for GOTS certified jeans, organic yoga pants or hip Veja sneakers, you can find them at: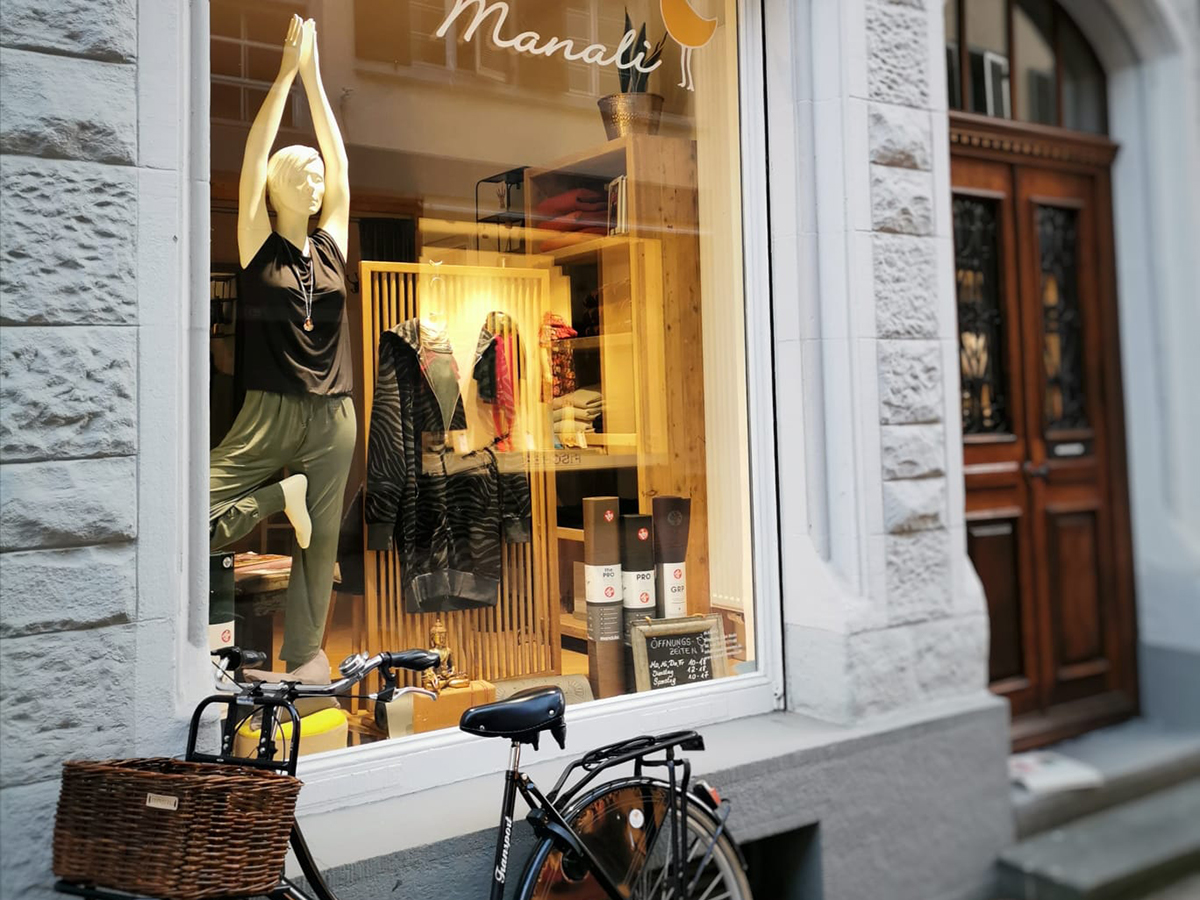 Organic fashion and yoga equipment at Manali in Neugasse (Photo: Manali).