Swimming and barbecue spots in Constance and Kreuzlingen
Summer in Konstanz is just perfect for relaxing from university stress. Whether you're swimming in the lake, having a barbecue with a view of the Alps or enjoying a cocktail in the beach bar, you'll easily feel as if you're on holidays. Simone, University of Konstanz student, shares the best locations with you.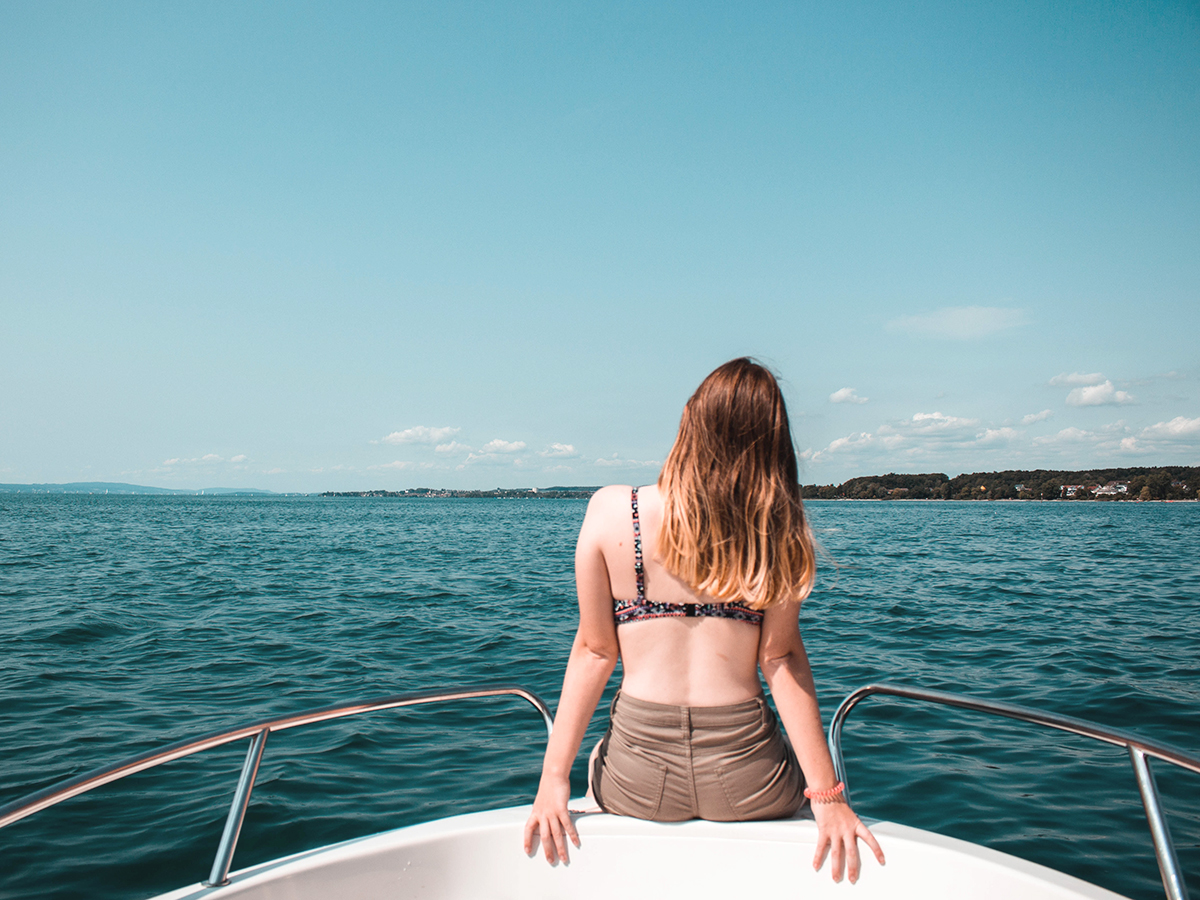 Go for a boat ride, try your hand at paddle boarding or canoeing, or just go swimming: Lake Constance has lots of options! (Image: Unsplash / Marcel Strauss)
Swimming in Lake Constance
There are a number of beaches around Konstanz and, the best part is, most of them are more than affordable: you can use them for free!
No summer without the Hörnle beach
The absolute must-go in summer is the Hörnle. With its huge beach located on the horn of the Bay of Constance there is always enough room for everyone. You can not only go swimming in Lake Constance, but also relax on the large lawn, enjoy the wonderful view of the lake or read a nice book.
If you're up for some action, you can also play beach volleyball, chess or table tennis there. Of course, you can also glide across the water by renting a stand up paddleboard. As both swimming and relaxing might make you hungry, there is a small café and a kiosk where you can buy drinks, ice cream and the classic pool snacks such as fries and sausage with curry sauce.
It's easy to get to Hörnle beach, by bike or via bus line 5. There's a large parking area for bicycles in front of the entrance. Another advantage is that there are lifeguards on hand who can help out in an emergency.
Dive into "smuggler's bay"
Ever been to "Schmugglerbucht" (smuggler's bay)? At the end of Seestrasse there is a path that continues towards Hörnle beach. In the fields and gravel alongside the path you can spread out your towel and then head for the water. With a little luck, you might even have the whole bay to yourself if you're there in the morning. This is the perfect place to spend a great day at the lake with friends, music and shared snacks. It's almost as if you were on holiday! To protect your sensitive feet you might prefer to wear aqua shoes when walking on the gravel and rocks in the water.
For adrenaline junkies: Bridge jumping from the bike bridge
Feel like jumping from the bike bridge into Rhine river? Remember: this is a dangerous activity that requires a lot of caution! Each year there are tragic swimming accidents because the current is particularly tricky here.
Nevertheless, many like to cool off on both sides of the bridge. Sunny spots of the urban riversides are especially popular with students. Herosé park, right next to several residence halls and not far from the HTWG Konstanz, is the ideal spot to meet up with other students and hang out together. When you're up for socializing, this is the place for you.
The university beach across from Mainau Island
You will often see students at the beach of the University of Konstanz's water sports area. Maybe it's because there's a nudist section? Who knows? But it's probably more likely that its great location close to the university and the picturesque view of Mainau Island are what draw people here. Drop by any time – before or after a day of classes, or even for a quick break in between. There's also a spot to BBQ if you like.

Insider tip for Switzerland
Just two kilometres from the city centre of Kreuzlingen is the "Naturschwimmbad Kuhhorn" on the riverside of the Rhine in Tägerwilen. Here, too, you can hang out on the large lawns, play football or jump from the three-metre diving tower.
The beaches ("Badis") "Rösli" in Bottighofen and Münsterlingen are also very popular but still very quiet, which is great if you want to relax. They even have places to BBQ and play beach volleyball – wonderful for a fine day at the lake.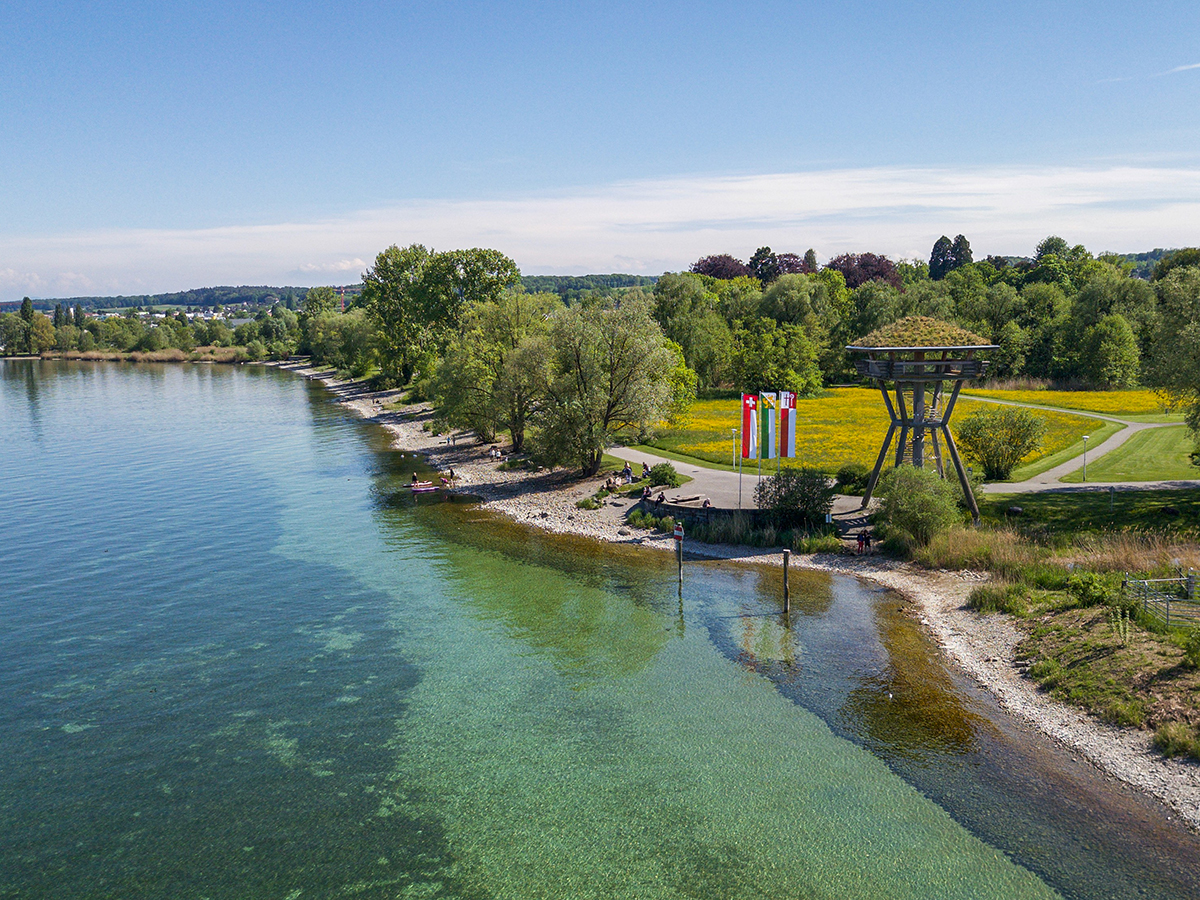 Take a walk or hop in the water: The Seeburgpark, just across the border in Kreuzlingen, is a great place for either activity! (Image: city of Kreuzlingen)
BBQ with a panoramic view of the Alps
It just wouldn't be summer without a BBQ, right? What could be better than winding down a long day by spending the evening at the lake with friends and good food?
There are plenty of places to BBQ, but make sure to look for spots where you are officially allowed to fire up the grill. The city of Konstanz website has a list of 15 public BBQ spots and the rules you need to follow when using them.
One highlight is the area around the "Bismarckturm" at sunset, with its panoramic view of Lake Constance and, if skies are clear, the surrounding Alps. The barbecue area "Grillplatz Purren" near Litzelstetten also has a great view! However, both places are pretty far from the water if you're in the mood to take a dip.
If water's what you want, you should check out the BBQ spots ("Grillplatz") located at "Wasserwerk", Herosé park or "Klein-Venedig".

"Strandbar" (beach bar) at the HTWG
JIn the old town of Konstanz, HTWG Konstanz students consider the "Schänzle" park on the Rhine river to be their own private beach. The Strandbar at the HTWG sells cocktails and sausages, but the "Schätzle" also has its own BBQ spot. Grab a drink at the bar and enjoy its atmosphere of endless summer. Or why not go there for a music event where you can relax to jazz tunes or dance to house beats? The HTWG's summer festival is really something to see. For more information and impressions, visit Facebook or Instagram. Check out the Strandbar when you're in the mood for summer!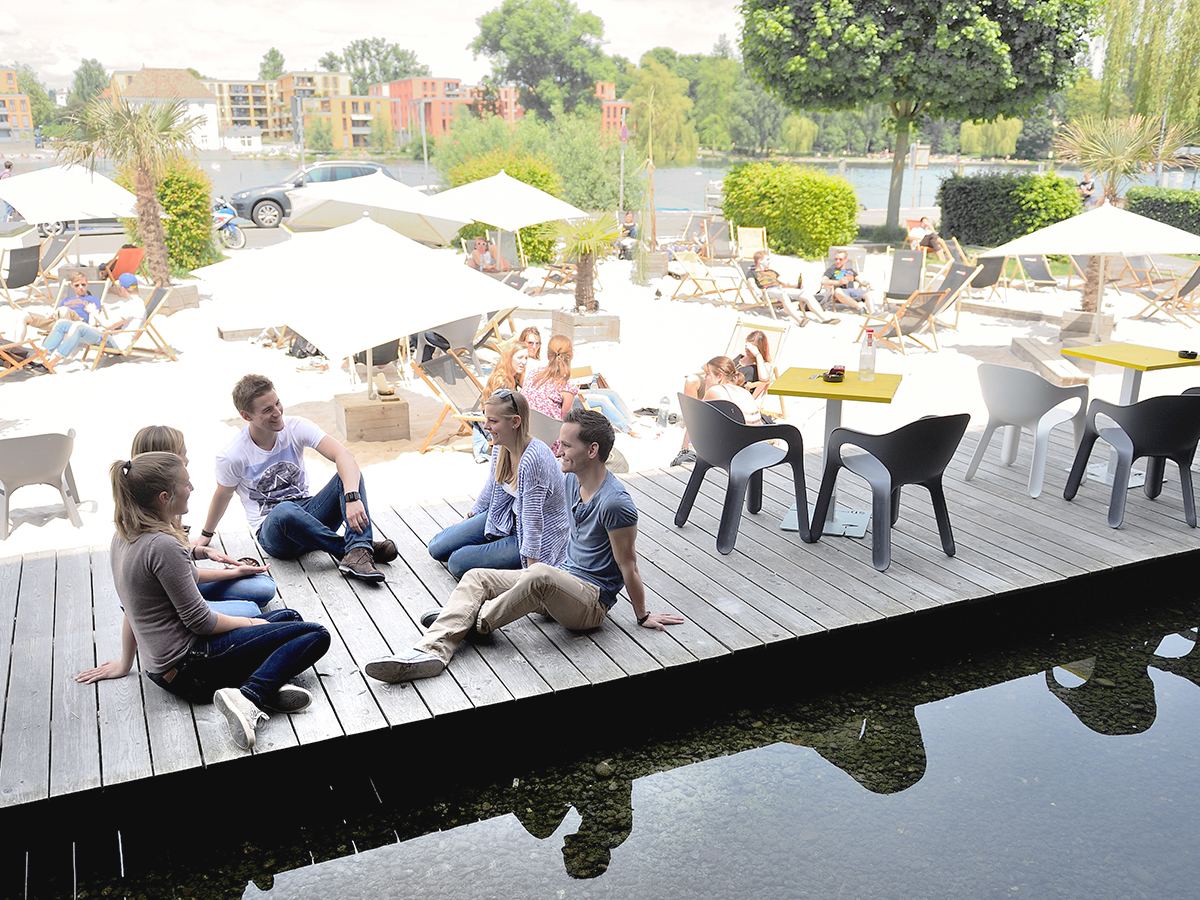 Lounge chairs, drinks and grilled treats: Summer at the Strandbar in Konstanz (Image: Jespah Holthof)